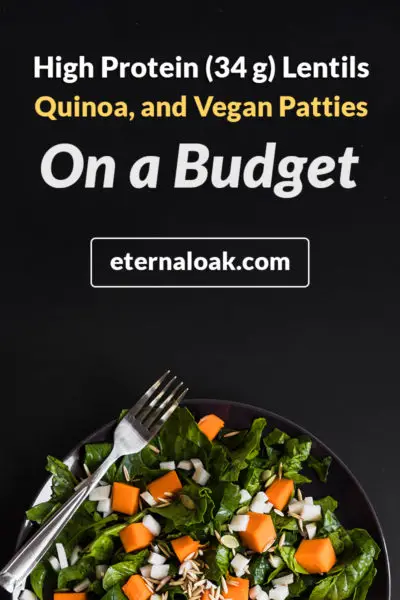 Here's another fast and cheap recipe that I just put together last week.
It combines lentils, quinoa, and veggie burgers into a simple dish.
If you've tried to get high protein vegan meals and haven't discovered lentils yet you're in for a treat.
400;">Lentils by far have the highest protein per calorie of any of the beans and one of the highest grams of protein per dollar.
Lentils have 1.25 g of protein per 10 calories which beats eggs, yogurt, and even ground beef.
Lentils also have 65 g of protein per dollar for a $2 package which you can get much cheaper in bulk.
To pack even more protein in I added quinoa, one of the highest protein whole grains, as well as vegan burger patties.
Lastly, this is one of those 60/20/20 macro meals that vegan bodybuilders strive for.
60% of calories from carbs, 20% from protein, and 20% from fat
Ingredients:
Serves 5 – split over 5 meal prep containers
1 lb package of lentils

1 cup of dried quinoa

1 box of vegan burgers (4 patties), look for ones with 16 grams of protein each

Onion

4 tablespoons of olive oil
Stats:
5 servings

640 calories per serving

34 grams of protein

15 grams of fat (20% of total calories)
Directions:
Cover the lentils in water and ideally let soak overnight then drain the water. This will get rid of any of the gassiness from the lentils. I skipped this step and just boiled them.

Bring the lentils to a boil, reduce to a simmer and cook till soft (25 – 35 minutes)

Simultaneously cook the quinoa with 2 cups of water in a rice cooker. If you don't have a rice cooker you can do the same thing on the stovetop. Bring the cup of quinoa and 2 cups of water to a boil, reduce to a simmer, then cook for 20 minutes and remove from heat. Let sit for 1 hour. It's way easier to use a rice cooker and not think about it. I got mine from a thrift store for $4 and it's a model they still sell in H-Mart and other Asian grocery stores for over $100.

Chop the onions and stir fry them on medium low heat with the 4 tablespoons of oil. Ideally do this in a very large wok or pan as you'll be adding everything in later.

Once the onions brown add the frozen vegan burgers to heat them up.

Remove the burgers once thawed, cube them, and set them aside.

Add spices to the onions in the pan. The simplest is to add salt and pepper to taste. This dish can easily be made into a curry, into chili, or a variety of other types. See other recipes on this site for how to do that easily. I like to include the spices in this step as sauteing them with the onions will bring out the flavors of the spices.

Once the lentils and quinoa are done add them into the wok or large skillet.

Add the chopped burgers in as well.

Stir everything.

Taste and add more spices as needed.