If you're looking for a versatile small appliance that fits right on the kitchen counter, then a blender could be just what you need. And, if you're looking for the best blender for frozen fruit smoothies, then you've come to the right place. With our top five choices, you'll soon be ready to start whipping up frozen cocktails, smoothies, milkshakes, soups, dips, gravy, salsa, and salad dressing.
Note: If you click some of the links in this article we may earn a small commission at no additional cost to you.
How to Choose the Best Blender for Frozen Fruit Smoothies
It's true that blender shopping can really be a daunting task and often truly frustrating as well. Why? Well, mainly because of the major number of options that are available today. That wide range of choices makes it difficult to know exactly which of the many features are even worth that extra investment or which ones you can simply live without. There are several types of blenders on the market to choose from, including:
1. Conventional Blenders
This is the type that comes to mind for the majority of consumers when considering buying a blender. It does not have as powerful a motor as high-performance blenders, and not quite as many fancy features. However, it can generally blend fruit and crush ice, making it ideal for making milkshakes and smoothies.
2. High-Performance Blenders
This type is often considered to be commercial-grade because of its powerful motor that can not only blend smoothies but also is capable of grinding nuts and grains as well as grating cheese. These blenders are also good for chopping harder fruits and veggies and making hot soup. Generally, they have some high-tech features as well, like digital timers and preset programs.
3. Personal Blenders
This type is a smaller blender designed for making single servings. In place of traditional blender jars, their containers are usually to-go cups. Because of the smaller motors, personal blenders are a bit less powerful than conventional blenders but an excellent option for anyone who needs to blend smoothies for one.


Things to Look For in a Blender
Just in case you're wondering what to look for in a blender, here are a few helpful hints:
A. Size and capacity
The first thing to take into consideration when shopping for blenders is the size that could work the best for your particular household. For example:
~ Choosing a high-performance blender could be the optimum option if you have a large family since they usually have bigger containers that are capable of holding as much as 80 ounces.
~ Conventional blender containers generally hold 56 to 64 ounces, depending upon the model, and work well for smaller families.
~ Personal blenders and mini blenders are usually capable of holding 8 to 24 ounces, making them suitable for work one or two people or even smaller families.
B. Blades
Stainless steel blades are always the best option because it's far less prone to rusting than any other material. It's also generally more durable as well. And, please note that removable blade bases are much easier to clean, too.
C. Motor Wattage
Generally, the higher motor wattage of a blender, the more versatile and powerful it is. For example:
~ 300-400 Watts
If all you're planning on doing is mixing soft ingredients, like milkshakes, then this wattage should be sufficient.
~ 500-700 Watts
This would be an effective blender for handling all kinds of smoothies with ease.
~ 1,000+ Watts
Only high-performance blenders are made with motors that offer 1,000 watts or more and they're capable of pulverizing even hard ingredients.
D. Pre-Programmed settings
Some blenders have pre-programmed settings, i.e. settings for making all kinds of smoothies and shakes by just pressing a button. It'll start your chosen cycle, choose the proper speed, and then stop itself when your pre-selected program is finished. Blenders with settings that are pre-programmed generally cost a bit more but are generally worth the price, especially if you're a kitchen multi-tasker.
E. Container Designs and Materials
Blender containers are generally made of glass or plastic. A plastic container is lightweight and not prone to breaking or cracking but tend to absorb odors and stains more than glass will. They should be cleaned immediately after use. Glass generally won't soak up any odors or stains, however, they tend to be heavier and prone to chipping, cracking, or even shattering. High-power blenders usually don't have glass containers due to the breakage risk. No matter which container type you buy, you'll want to ensure that it offers a tight-fitting lid, a wide mouth, and measurement markings that are easy-to-read.


What are the Benefits of a Best Blender for Frozen Fruit Smoothies?
If you ask anyone who has ever owned a top-of-the-line countertop blender, they'll tell you that it's definitely a must-have if you enjoy milkshakes, smoothies, or any kind of frozen drinks. A good blender can also come in handy for a number of other things as well, including when you want to blend pancake batter or even grind up cookies, crackers, or bread for making pie crust or breadcrumbs. In addition, high-performance countertop blenders can even be used for juicing fruits and veggies as well as grinding nuts and some other hard items, and even making dough. And, for info on the best smoothies for your health plus some healthy recipes, just ask the experts at WebMD. (1)


Best Smoothie Blenders
If you're ready to buy a new countertop blender, or even if you're still shopping for the perfect one, please check out our top five choices for the best blender for frozen fruit smoothies:
Vitamix Professional Series 750

The Vitamix Professional Series 750 Blender looks really impressive in the kitchen while also offering some really convenient features like its low profile for easy storage.
Pros
~ 17.4 inches tall
~ Cool-running 750-watt motor
~ Strong four-point hardened aircraft-grade stainless steel blades
~ Variable-speed system
~ Automated blending with five pre-programmed settings
~ High speed can blitz practically anything
~ Professional-Grade
~ 64 oz. low-profile container
~ Self-Cleaning
~ Cooling fan
~ Overload protection
~ Cookbook included
~ DVD and getting-started guide included
Cons
~ For many consumers, this blender's height could be an inconvenience when storing.
~ Seal may give off bits of black material
~ May leak at the bottom of the pitcher
~ A bit noisy sometimes
~ Base may rotate and/or shimmy on the countertop when in use
This top-of-the-line blender may have a less powerful motor than some of the others but it appears to make up for that with its superior features. To get started here's a video that shows some special healthy recipes:


Ninja Professional Blender 1000- BL610

This blender features exceptional performance and a sleek design. As the name says, it has 1000 watts of power. In addition, the patented total crushing blades are capable of giving you perfect crushed ice.
Pros
~ Controlled blending, pureeing, and processing,
~ Extra large 72 oz. jar is perfect for blending smoothies for the entire family
~ Made with BPA free parts
~ Dishwasher safe
~ Six-blade assembly
~ Turns ice into snow in just a few seconds
~ Works well and cleans easily
~ Measures 10.6 by 8.2 by 15.8 inches
~ Weighs only 9.51 pounds
Cons
~ The lowest setting is too high for some consumers
~ Pitcher isn't covered by the one-year warranty
~ Pitcher is plastic, not glass
~ Very loud
~ Some consumers found it difficult to
~ Others found it hard-to-assemble
All in all, the Ninja Professional Blender 1000 Model BL610 is an excellent member of the best blender for frozen fruit smoothies category and offers plenty of power. Here's a YouTube video so you can check it out and see how to make amazing smoothies: 

Oster Reverse Crush Counterforms Blender

You can blend a wide range of tasty beverages and yummy food with this Oster blender that's backed by Oster and offers optimum power and quality. An additional feature is the fact that the two connecting pieces are manufactured using strong metal, not plastic, so they last longer.
Pros
~ 1,000 Watt Motor
~ Six-Cup Glass Jar
~ Seven Speed-Settings
~ Brushed Stainless Steel & Black Finish
~ American-Made
~ Dual-Direction Blade Technology
~ Three-Year Satisfaction Guarantee
~ Smart Settings
~ Backlit Display
~ Ten-Year All-Metal Drive Ltd. Warranty
Cons
~ Blade assembly is extremely tight when turned by hand, causing friction
~ Blender can be noisy at times
~ Screw-on base is lighter and thinner than previous models
~ Takes too much time to make a really creamy smoothie
In a nutshell, the Oster Reverse Crush Counterforms Blender could be an excellent addition to your home kitchen counter and for fulfilling all of your entertaining needs.
NutriBullet Pro

NutriBullet Pro – 13-Piece High-Speed Blender/Mixer System can pulverize even the toughest fruits, veggies, and seeds as well as superfoods for making nutritious smoothies, protein shakes, and even nut butter. It includes a power base, two good-sized cups, one emulsifying blade, two flip-top lids, two lip rings, user manual, pocket nutritionist, and more.
Pros
~ 13-Piece High-Speed Blender and Mixer System
~ Powerful 900-watt motor
~ Included hardcover recipe book
~ High-torque power base
~ One-year warranty
~ Smoothie recipe access in the hundreds
~ Patented stainless-steel blade-design
~ Cyclonic action
Cons
~ Container could leak
~ Unit is somewhat loud
~ Blade assemblies and cups don't make a clean seal
~ May have an electrical burn smell while running
Aside from the few cons that are inherent to this blender model, it seems to be an excellent 900-watt blender, especially for making smoothies. Here's an excellent video to show you how to make an absolutely perfect green breakfast smoothie with the NutriBullet Pro to get you started:

The Nutri Ninja is small compared to some others, however, it has two sip and seal cups, one is 18 ounces and the other is 24 ounces. It makes up for its smaller size with superior convenience.
Pros
~ Conveniently allows users to make smoothies or juice to-go
~ Weighs less than seven pounds
~ A Small base unit
~ Only 15 inches tall (with the largest cup in place)
~ The pro extractor blades are capable of breaking down whole foods, veggies, seeds, and ice
~ Cups and blades are both BPA-free and dishwasher-safe ~
~ Measures 12.5 by 9.2 by 9 inches
~ Weighs only 6.65 pounds
Cons
~ Motor can be somewhat noisy
~ Long, messy cleanup
~ When blades are screwed on tight enough not to leak, they're difficult to get off
~ Some units have leaks

This Nutri Ninja BL455 Professional 1000 watt blender is also available with a personal blender bonus set that includes three-Sip & Seal Single Serve cups (12, 18, and 24oz) plus a 75-page recipe cookbook. So, this blender could be the optimum choice for your blending needs and especially for making those amazing healthy smoothies you can find in the cookbook.
Our Choice
Our top choice is the Vitamix Professional Series 750. Why? Well, for starters, we were impressed by its powerful motor and the larger number of features. We also loved the included cookbook, DVD, and easy-to-follow getting-started guide. In addition, the automated blending feature with five pre-programmed settings is a definite plus. And, when you set this blender on high speed, it truly can blitz practically anything you throw at it. Also, the cooling fan and overload protection are two safety features that not all blenders possess, even those that are considered to be top-of-the-line.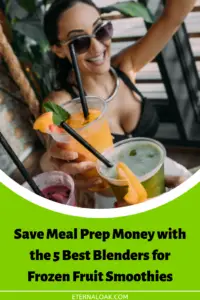 Sources
1 – https://www.webmd.com/food-recipes/features/best-worst-smoothies#1