How would you like to feel younger, kick anxiety in the butt and maybe even get some extra adrenaline that can help you grab life by the horns? Traditional medics from India have claimed that Ashwagandha can do all these things and more, and now western experts like Dr. Josh Axe are making the same bold claims (1).
We took the time to see what qualities make the best Ashwagandha supplement for men.
Note: If you click some of the links in this article we may earn a small commission at no additional cost to you.
Top 5 Ashwagandha Supplements for Men
Physician's Choice 1950mg Organic Ashwagandha Root Powder
What makes Physician's Choice Ashwagandha root so potent is the fact that they only use material sourced from the root. It probably sounds strange, but sometimes if you order a bottle of root extra you'll actually get a package of leaves and stems. These supplements are made to adhere to guidelines set by the Indian Ministry of Health, the National Institute of Ayurveda and the USDA so they don't have any filler or genetically modified ingredients in them either. All pills made by Physician's Choice are packed in a certified facility in Washington state.
The vendor works with an experienced farmer to get the best root cut possible. These supplements are packed into so-called Capsugel PlantCaps, which are neat gel-caps that don't contain starches or wheat gluten. The large size makes it fairly affordable.
Pros:
Certified 100 percent organic supplement

Powerful 4:1 Ashwagandha to pepper extract ratio

Only includes plant material that's never been exposed to pesticides or antibiotics
Cons:
May prove too strong for those unused to taking herbal supplements

Has a rather earthy taste

Must take three capsules to get a full 1950mg of product
NutriRise Ashwagandha Root Supplement
NutriRise uses certified organic root powder that's inspected by the UDAF when making their supplements. Since they only use roots to make them, these pills contain a low quantity of Withaferin-A, which could make some people sick. As a result, they're an extremely safe supplement that's made even safer by testing for heavy metals, mercury and even bacterial contamination. This high level of potency means that you'd only need to take two capsules once every day. As with most modern Ashwagandha extracts, this supplement contains some black pepper extract to help your body absorb and use the root. It's priced around the same as most other products.
Pros:
Made in the USA in a plant that follows cGMP rules

Doesn't taste as weird as some Ashwagandha supplements

No filler inside the 100 percent vegetable-sourced capsule
Cons:
Some users may feel it's not strong enough for them

May take some time to become effective compared to a stronger supplement

Caused slight discomfort in some cases when taken without food
Sheer Strength Labs Sheer Ashwagandha
Sheer Strength Labs' newest offering is designed to be as strong as the men who take it. It includes an extra vitamin supplements mixed in, which might a good idea if you're dealing with a deficiency on top of having adrenal or anxiety issues. Like other products, this supplement doesn't contain GMOs or binders. What it does have, though, is one of the highest concentrates of Ashwagandha available in a capsule outside of India. If you've had problems with other supplements or are extremely active, then this might be the one for you especially since the price is relatively reasonable.
Pros:
One of the most potent products on market

May help those that found other products didn't work for them

Includes Vitamin C instead of black pepper extract
Cons:
You have to take with food because of its strength, no question

Contains some silica as an added mineral

Need to take four capsules to get full effect
Naturevibe Botanicals Organic Ashwgandha Root
If you're looking for a natural product that's not going to taste too terrible, then you might like Naturevibe Botanicals' supplements. They come in large economy-sized bottles and don't come with as much of the foul smell you might notice from other similar products. As the company's name suggests, these supplements are made the old-fashioned way and weren't stepped on with any kind of chemical agents.
Pros:
Made without exposing the root to much heat

Undergoes no chemical processing

EcoCert, Kosher & Halal certified
Cons:
Lacks any enabler like pepper

Relatively low dose product

May take a bit longer to work
Organic Health 100 percent Ashwagandha
Organic Health recently had their product reformulated, and it shows. Their new Ashwagandha pills offer a fresh design to compliment their fresh packaging, and they've eliminated all of the filler compounds and other junk to make sure they're shipping the best product they can. This supplement is pretty close to the preparation that you might find if you went to a dedicated Ayurvedic pharmacy, so if you've used this root extract in the past this could be the option for you.
Pros:
100 percent organic and made in at FDA-registered facilities

Capsules feature vegetarian coatings

Come in standard 1950mg size
Cons:
Have to take three capsules to get full effect

Includes slightly more black pepper extract than some other brands

Somewhat more expensive unit price
Our Choice
It seems like our choice and the Physician's Choice happen to be the same one. These supplements offer enough black pepper extract to make the Ashwagandha root kick into high gear but don't come with anything that would dampen its effects. While these are a little on the strong side, that makes them perfect for active guys who are always on the move. If you workout a ton, then these can keep up with you.
However, it's up to you to decide which option is best. Any of these five products are among the best out there today. Choose a supplement that's strong enough for you but doesn't give you any discomfort.
Benefits of Using Ashwagandha Root Extract
According to dietetic expert Franziska Spritzler, Ashwagandha is what researchers are now calling an "adaptogen" herb (2). It has levels of compounds that doctors call withanolides, which were shown in a 2009 study to potentially reduce inflammation and tumor growth (3). This should be great news if you've been worried about expensive weird medical treatments or confused about all the various new alleged cures they seem to come out with every week.
With record numbers of adult men coming down with type 2 diabetes, chances are that you might be concerned about your health and weight. Several studies have shown that Ashwagandha can help lower blood sugar levels. They've been using it to treat diabetic patients in India for years, and a 2015 study by Gorelick and Rosenberg helped to confirm what this ancient wisdom had been saying all along (4). If you have high blood sugar or were told you were per-diabetic, then this could be a real alternative to expensive and dangerous prescriptions.
Are you struggling with depression, stress or anxiety? According to Dr. Edward Group, author of the USA Todaybestseller The Green Body Cleanse, Ashwagandha root can reduce how much cortisol you have running around in your system. This hormone can cause stress and brain fog over time. Since Ashwagandha supplements reduce stress, they can cut down on this hormone.
Perhaps even more importantly, researchers have found that it can significantly increase serum levels of testosterone and revitalize men who don't have the right hormone balance (5).
Dr. Group wrote that some men might even find that this improves strength and muscle development while also promoting good recovery after physical training.
Things to Look for When Getting Ashwagandha Supplements
Since it can potentially reduce your risk of cancer and diabetes while also helping promote lean muscle development, you'll want to invest a little time in picking the right product. Most of it comes down to personal preference, though, since most legit herbal manufacturers aren't shipping pills with weird concoctions. As long as you buy from a known brand, you shouldn't experience any problems.
Natural health expert Dr. Joseph Mercola has said essentially the same thing in the past:
As well as being hard to say for most western men like you and me, Ashwagandha is Sanskrit for something like "horse stench." It's going to smell bad either way, but you get used to it. If you're new to it, then you might want to pick a product that isn't quite as stinky.
Look for something that has an enhancer in it. Your body can't do much with Ashwagandha root by itself.
I was originally taking a supplement that had nothing but root powder in it. After a few months, all I had to show for it was some bad breath! In India, they mix it with a small amount of black pepper extract or another enhancer that makes it easier for your body to absorb.
Make sure it reads black pepper extract and not just black pepper on the bottle, if it has some in there. Otherwise, you're not getting anything more than what you might find on the spice rack.
Best Way for Men to Use Ashwagandha Supplements
Some supplements can be taken by themselves at anytime, while you'll want to take the stronger ones with meals. Actually, I've learned myself that it's best to take pretty much any kind right after I've eaten. This is a pretty strong herb and it feels weird on an empty stomach.
Know how much you want to take too. You'll probably want to start out relatively small.
Top vitamin expert Andrew Weil M.D. recommends something like a 500mg dose (6). If you're really active, though, then you're going to want something beefier.
When I first started using a decent Ashwagandha, after I got off the one with no enhancer, I had just enrolled in a pretty hardcore MMA program. Turns out all of that vigorous training was sort of eating up the herb I was taking! I had to take more to get the full effect, which made me feel like a pill-popping old man!
Store your supplements in a place without too much light or heat. They should come in an opaque bottle, but it's a good idea just in case. I'm not the most domestic guy around, and I'd still be eating out of a can if it were up to me but I quickly learned that Ashwagandha could be fragile and go bad if not stored right.
Precautions for Ashwagandha Users
While this is a pretty safe supplement, it might work a little too well in the lowering anxiety department if you have super low blood pressure. Change up your dosage if you find that you're feeling drowsy. You shouldn't take it at all if you're on any kind of blood pressure pills.
Most men won't have any other problems, but there's one marketing issue you'll want to keep your eyes open for.
Pay close attention to the size of each capsule. Some companies sell jars filled with hundreds of capsules that are all so small you have to take several every day to get the full effect, so that great deal it looks like you're getting isn't so great after all.
I wish I knew this when I thought I was getting a great deal on a bottle that had 600 capsules in it!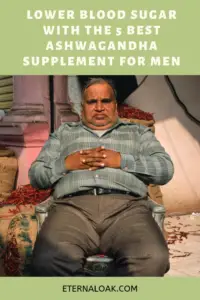 Sources
1 – https://draxe.com/ashwagandha-benefits/
2 – https://www.healthline.com/nutrition/12-proven-ashwagandha-benefits
3 – https://www.ncbi.nlm.nih.gov/pubmed/19633611
4 – https://www.ncbi.nlm.nih.gov/pubmed/25796090
5 – https://www.globalhealingcenter.com/natural-health/ashwagandha-and-mens-health/
6 – https://www.drweil.com/vitamins-supplements-herbs/herbs/ashwagandha/