Have you noticed lately, how many people are getting into yoga, not only for its health benefits but also for weight loss? We all know how busy and stressful our lives can be, which is all the more reason to try yoga. Some yoga poses can be downright painful without some guidance, so we've compiled a list of prospects for the best yoga DVD for weight loss.
What are the Benefits of Yoga?
It helps tone and build muscle,

It boosts concentration,

It improves sleep,

It increases circulation,

It reduces stress,

It can boost your mood.
You can see more benefits here: 
Better Balance
Yoga can also help improve your balance, which in turn could help your involvement in all kinds of sports as well as many other forms of exercise. This can lead to even more weight loss. In addition, yoga offers some improvement in the way that you are generally moving around when engaging in your everyday activities.
Many women who have taken up yoga have said that it gave them increased mental focus plus improving their overall performance at home, work, and even in creative endeavors. But, they were most impressed with the weight loss and muscle tone that they derived from yoga.
And, regularly taking time out of your busy schedule to do yoga can impart an increased feeling of self-worth while also being a serious self-esteem booster. In fact, getting into yoga could bring about a positive change in your whole life in many ways.
Exercising Your Entire Body
Yoga is an excellent holistic approach to lasting weight loss and a far cry from those days when crunches were supposed to be the only way to go for staying in shape.
Yoga allows you to start exercising your entire body and achieving some genuine weight loss along with some major muscle-toning. And, with a wide range of yoga DVDs available, you can remain centered and stay in shape easily at home.
If you're like most people, you may not want to have to keep going to the gym all the time to stay in shape. With a good yoga regimen, you can quickly see results in both physical and mental wellbeing while also improving strength and muscle tone.
Many yoga poses, like the downward or upward dog, can also have a deep effect on upper body strength. The plank, on the other hand, puts the focus on your core, while a standing pose will focus on strengthening your lower back and your upper leg muscles.
How Yoga Works
Fads in the workout world always seem to be coming and going, but there isn't any other exercise program that has ever been quite as enduring as yoga. Did you know that it's actually been around for 5,000 years? And, it can do a lot more than just toning muscles and burning calories. As a complete mind-body workout, it combines stretching and strengthening poses with relaxation, meditation, and deep breathing.
In addition, there are 100+ different yoga forms and many are relaxing and gentle while others are quite intense and fast-paced. Here are a few examples:
Ashtanga – Yoga poses in combination with a special breathing technique.
Bikram (aka Hot Yoga) – 26 challenging poses in a heated room.
Hatha – A combination of breathing and basic yoga movements.
Iyengar – Yoga done using props, such as a chair, blocks, or straps, for helping to move the body into proper alignment.
Power – A high-intensity, fast-moving practice for building muscle.
Vinyasa – Poses flowing into one another very smoothly.

[1.]
See more here:
These are the most well-known types of yoga, however, if you're a big fan of the strange and unusual, here are a few alternative choices for you to explore:
Goat Yoga

Nude Yoga (Noga)

Cannabis Yoga

Yoga Raves

Tantrum Yoga

Dog Yoga (Doga)

Aerial Yoga

Broga Yoga

Acrobatic Yoga (Acroyoga)

[3.]
Yoga intensity levels vary by type. Iyengar and hatha yoga are slow and gentle while both power yoga and Bikram tend to be much more challenging and fast-moving. But, they all target the following areas:
Arms

Back

Core

Glutes

Legs

[1.]
No Expertise Required
Fortunately, expertise is not necessary for reaping the benefits of yoga. In fact, if you just add a few poses to your routine, you'll be helping your health in a wealth of really unexpected ways.
Not only will you be helping to improve your balance, endurance, flexibility, and strength, but also learning to better cope with stress via the cultivation of a sense of ease. And psychologically, yoga assists in cultivating mindfulness by shifting your awareness to all of your senses, emotions, and thoughts accompanying any given yoga pose.
The fact is that in-depth research is continuing to discover more and more health-enhancing yoga benefits not previously thought of, including:
Boosting emotional health,

Relieving back pain,

Aiding in fertility,

Relieving hangovers,

Helping with heart disease,

Easing asthma symptoms,

Fighting arthritis,

Treating insomnia,

Helping with MS,

Boosting memory,

Treating PTSD.

[2.]
The Best Yoga DVD for Weight Loss- What to Look For
When looking for the best yoga DVD for weight loss, everyone seems to be in agreement that the difficulty level, routine time, and the instructor are the most important factors. In fact, those were our top criteria used to select the very best yoga DVD for weight loss.
We know that finding the best one for you personally can be a bit overwhelming. Being able to know what makes one DVD better than another could be a daunting task when you're not quite sure what you're actually looking for. So, let us help you with that via our comprehensive reviews.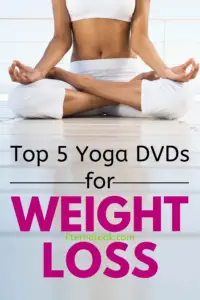 Note: If you click some of the links in this article we may earn a small commission at no additional cost to you.
The Top Yoga DVDs for Weight Loss
OK, so if you're ready to begin your sun salutations, here are our five best yoga DVD for weight loss reviews:
You've probably heard of or seen Jillian Michaels on NBC as the winning trainer for "The Biggest Loser" show. Now, with this DVD, she's introducing a new yoga workout that's touted as not being like any other. It combines some hard-core poses with Jillian's dynamic training techniques for some really fast weight-loss results.
The DVD includes two complete workouts that last 30-minutes, including warm-up and cooldown. Level 1 workout focuses on some fast-flowing sequences for burning calories. Level 2 offers balance poses and twists for a better burn.
Yoga Meltdown is available in both English and Spanish, closed-captioned, color and Dolby sound from well-known Lions Gate Studio. It was released on March 2, 2010, and has a total run time of 66 minutes.
Pros
Movements don't put pressure on major joints

Includes interval training

Each 30-minute workout is just challenging enough
Cons
Filmed on a gym set that's too bright

Not suitable for bad knees or wrists

Hard to see the beginner model when necessary
If you're looking for body transformation, this is a total conditioning program. It offers separate workouts for everything from your lower body to your upper body and everything in-between. It's known for helping users with becoming stronger.
It's also not what you might find in typical yoga studios because it was engineered for helping you with building lean muscle, burning stubborn fat, and getting in better shape. Using a science-based and anatomy-focused yoga approach, this DVD program can increase athletic performance, balance, energy, mobility, and strength.
At the same time, it also protects joints, relieves pain, and tones the muscles, while also reducing recovery time. In addition, it does all of that in a safer low-impact way. Users of this DVD have felt the difference in their first week and noticed changes in their bodies after the first month.
Pros
Works chest, glutes, shoulders, thighs, and upper back

None of the usual aches and pains from exercising

Strengthens the entire body
Cons
Content looks good but DVD quality is poor

Hard for seniors

Segment lengths not listed
You may have seen the amazing weight loss stories on the hit show and now you can have some of that same success by achieving weight loss results in around six to eight weeks via yoga's transforming power. This DVD promises results and is led by instructor Bob Harper.
It's a 55-minute regimen offering three workouts plus five-minute sections for warming-up and cooling down. The special menu option allows you to start practicing the yoga workouts in any order you choose.
For starters, there's the longest one, which is a vinyasa series that focuses on core strength with a variety of stretches, lunges, standing poses, warrior poses, the plank, and much more.
The second series focuses on backbends and ab-work. The third is a gym-type workout that you can do either with or without weights. Harper offers instructions that are both encouraging and friendly and include some frequent reminders about how important your breathing is.
Pros
Shows real people doing the yoga poses

Friendly and encouraging instruction

Available in multiple formats
Cons
Not for beginners

Annoying music

Some difficult moves
This three-DVD set offers 35 yoga routines and is designed specifically for helping you lose weight, while also toning your body and increasing your energy.
It's a perfect fit for everyone from beginners to advanced enthusiasts. And, while it's transforming your body, it'll also transform your spirit and mind as well.
Disc #1 is "Flow Yoga", which was designed for both flexibility and strength, giving you a total body program with eight targeted-flow-yoga routines to choose from.
The challenging workouts that can bring positive change to your arms, core, hips, and legs include:
10 minutes- Warm-Up

20 minutes- General Flow

45 minutes- Core Strength

40 minutes- Legs

40 minutes- Arms

45 minutes- Hips

35 minutes- Back

18 minutes- Cool-Down
Disc 2 is "Yoga for Weight Loss and Beyond"
An interactive DVD with 12 easy-to-follow custom routines ranging from 15 to 60 minutes that are energizing, de-stressing, and invigorating, including:
Getting started

As you Progress

Yoga with Weights
Disc 3 is "Power Yoga for Every Body" 
This disc offers 30 routines for helping you with getting into shape, getting more flexible and stronger as well as de-stressing and increasing your energy. Each routine runs between 20 and 120 minutes with moves seamlessly flowing from one to another, including:
Sessions for AM or PM

Increasing Flexibility

Balance and Strength-Building Practices

Relaxation

Stress Relief
Pros
Good for both beginners or seasoned yoga enthusiasts

Relaxing and stress-relieving

Yoga Journal Editor's Choice
Cons
Instructor goes too fast

Not enough instruction

Not for beginners according to some
Our Choice
It really doesn't matter if you're brand new to doing yoga or have been doing it for years, any of these five top-rated DVD sets will give you plenty to challenge you. With excellent instruction and lots of yoga exercises, you'll have new routines for months.
However, our #1 choice is the Yoga for Weight Loss Box Set. There's so much for you to do on all of these DVDs that we found it to be a really good bargain.
Between all them, you'll be getting numerous levels of workouts. If you're a beginner, there's plenty for you to do and, once you've been doing the workouts some more, then you have lots of more challenging and longer workouts. Best of all, you'll be losing weight!
Sources
[1.] https://www.webmd.com/fitness-exercise/a-z/yoga-workouts
[2.] https://www.everydayhealth.com/fitness-pictures/10-surprising-health-perks-of-yoga.aspx
[3.] https://www.everydayhealth.com/fitness/crazy-types-yoga-you-never-knew-existed/