Do you want to get fit but struggle because your body feels so sore after any exercise? This might actually be caused by your shoes. Finding the best workout shoes can be difficult if you have flat feet, but these reviews will make things easier for you.
How to Tell If You Have Flat Feet
You probably don't spend a lot of time thinking about your feet, but these important features are supporting your body all day long. You might not even know about it, but there's a chance that you are dealing with fallen arches.
The Mayo Clinic defines flat feet as a condition where the inner middle part of your foot does not have a high enough arch (3). Many people are born with flat feet, but others can end up getting this condition after a foot injury. If you were pregnant, overweight, or diabetic, you can also develop flat feet.
Just looking at your foot probably isn't enough to let you know if you need special workout shoes. Instead, you should wet your foot, make a footprint, and look at the the strip of footprint between your heel and the balls of your feet.
If this strip is over half the width of your foot, then you definitely have flat feet.
In addition to this measurement, you might notice other signs of flat feet. This includes foot pain, back or leg pain, and swollen feet. You will find that it often gets a lot worse when you try to exercise and get fit.
You may also end up frequently tripping or slipping while running due to a lack of stability, and you will notice that shoes you wear frequently are worn along the instep.
Why Do People With Flat Feet Need Special Shoes?
You might be thinking that flat feet aren't so bad. After all, the American Orthopaedic Foot and Ankle Society Says that thousands of people go through their life without ever noticing that they have flat feet (2).
However, the problem with fallen arches is that you end up putting a lot of your body weight on areas of the foot that were not meant to support weight. This ends up damaging all the ligaments and tendons in your feet.
You may not consciously realize that your feet feel uncomfortable, but your body might shift your posture and walking methods to compensate. This can end up causing a wide range of issues with your leg joints and spine alignment.
Many people try to manage flat feet just by sticking an arch support insole into their shoe. Keep in mind that the basic squishy ones you can find at your local shoe store are not effective. They just provide cushioning without giving you support.
Actual treatment for fallen arches focuses more on support than padding. People with flat feet need a shoe that will essentially push their feet into a neutral position by lifting up their arches.
The right shoe keep a person with flat feet from twisting their feet inward or putting too much weight on the wrong part of the foot. This reduces pain and improves your balance and stability.
What Should Anyone Look for in a Workout Shoe?
Of course people with flat feet will have some special considerations to think about when shopping for feet, but it is important to also go over the general requirements for workout shoes.
You need to keep in mind that any old shoe is not going to help you during an exercise. The wrong shoe could actually end up making you exhausted and sore after a workout without actually accomplishing much.
Shoes worn for any exercising need to have a sole that provides plenty of traction and grip. They also need to have extra cushioning to absorb the shock of repeatedly putting your weight against a flat surface.
Athletic shoes should fit comfortably. The American Academy of Orthopaedic Surgeons says you should make sure that you can wiggle your toes freely when wearing a workout shoe and have a half inch of space between your longest toe and the shoe's tip(1).
The right type of workout shoe will vary depending on your form of exercise. For walking and weightlifting, a shoe with a stiffer sole provides support and keeps your foot in the right form. When you are running or playing actives sports, you need a more flexible shoe.
To manage flat feet, you need to find shoes that provide both support and stability. Look for motion control options that use dual-density foam beneath the arch to keep the feet in a neutral position.
Skip heavily padded shoes with a high artificial arch. These just end up bruising the sole of your foot.
It is a good idea to check for shoes that use polyurethane materials along the sole of the arch to reinforce it and provide more support. You may also benefit from shoes with a high heel counter. This stiff insert along the heel cup on the shoe cradles your heel and prevents your feet from turning inwards.
Looking for these features while shopping for shoes that suit flat feet will help you to find footwear that keeps you comfortable and helps you to get the best workout possible.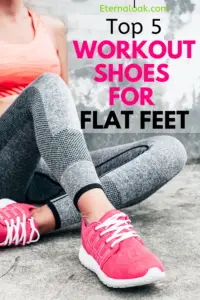 Note: If you click some of the links in this article we may earn a small commission at no additional cost to you.
5 Great Workout Shoe Options If You Have Flat Feet

Available in both men's and women's sizes, the Asics Kayano is a versatile shoe suitable for a variety of exercise types. It uses the company's special FluidFit mesh upper that stretches in multiple directions to create a customized fit. The uniquely lightweight and breathable shoes are a favorite among many runners.
Pros
Durable materials mean that you do not have to replace these shoes frequently.

The Solyte midsole material provides extra cushioning while also being lighter in weight than other Asics shoes.

Many colors, including cheerful bright shades and subtle neutrals, so you can match the shoes to your exercise outfits.

A two part midsole maintains flexibility without reducing the amount of support.

An exoskeletal heel counter provides additional support.
Cons
Not an affordable option.

The thicker sole takes a little time to get used to.
To make these shoes for people who have flat feet, Ecco compiled data from over 2,500 different pairs of feet. The end result is a supportive shoe that manages to be more lightweight and less bulky than most shoes for flat feet. Since they are on the firmer side, they are ideal for walking or weight training.
Pros
The upper made from nubuck yak leather is breathable and conforms to your feet.

A midsole injected with sturdy polyurethane and a proprietary Biom-last material provides long term support.

A high heel counter helps to hold your heel in the right position.

The insole has a strobel insert for soft cushioning.

Ecco's special low-seam construction keeps your feet feel comfortable and reduces blistering.
Cons
Toe area may be too narrow for some people.

Since it is made from yak leather, it is not vegan.

Brooks Addiction sneakers are excellent for those who are planning on doing a lot of running. The brand focuses on motion control, so your feet do not twist out of alignment or slide into unsafe positions while you are jogging in the shoes. When you wear these shoes, your arches are stabilized enough to let you go on lengthy runs without a problem.
Pros
A large range of styles and colors lets you find the shoe that fits your personal style.

Extra wide sizes let you wear these shoes even if you have flat feet.

The shoes are made with a BioMoGo DNA midsole cushioning that absorbs shock from pounding against pavement.

An extended progressive diagonal rollbar along the side keeps your feet from rolling inwards or outwards as you run.

The plush sockliner creates a comfortably cushioned feel.
Cons
The Brooks shoes are a little bulky and clunky looking.

Shoes may feel slightly stiff and rigid.

To create a great workout shoe for people with flat feet, Hoka uses a J-frame design. This innovative shape results in a midsole that wraps around the walls of your foot to hold it in place while you move around. You can feel confident that your foot is being secured in a proper position even during rapid exercise.
Pros
Hoka's blend of rubber and EVA makes a lightweight sole that doesn't drag down your feet while you run.

The "rocker" shape of the sole makes your run feel slightly bouncy.

3D printed overlays provide structure and security along the upper.

Plenty of cushioning keeps your feet from feeling sore on long runs.
Cons
The exterior of these shoes is very large and chunky looking.

A narrow toe box may cause issues for some people.

This running shoe from Mizuno gets its name from the wave of thermoplastic that wraps around the heel and part of the sole. This provides a torsional form of stability, so your foot does not twist about when you run. The combination of technological innovation and quality materials results in an unusually soft running experience.
Pros
Double foam compound in the midsole provides additional support.

Mizuno puts a plate of material along the midsole for added support.

A flexible toe lets you run with more ease.

Mesh material is breathable while still protecting your feet in cold weather.

The textured sole has enough traction to keep you from slipping.
Cons
Some find the midsole area to feel a bit too raised which can make it dig uncomfortably into your arch while running.

Color options tend to be slightly garish for some tastes.

Not as longlasting as other options.
Our Ultimate Choice
The Asics Gel Kayano is the clear winner because it manages to be so comfortable and lightweight while still holding your feet in the right position.
Of course you might need a heavier, orthopedic style like the Brooks Addiction if your doctor recommends it, but the Asics Gel Kayano is a nicely versatile and lightweight pick for most people with flat feet. It lifts up and supports your arches without looking or feeling too large. All of the options on the list have great benefits, but the Asics Gel Kayano is the only one that provides you with the perfect combination of style, comfort, and stability.
Sources
(1) https://orthoinfo.aaos.org/en/staying-healthy/athletic-shoes/
(2) http://www.aofas.org/footcaremd/conditions/ailments-of-the-midfoot/Pages/Flat-Feet.aspx
(3) https://www.mayoclinic.org/diseases-conditions/flatfeet/symptoms-causes/syc-20372604