Whether you are taking long walks to lose weight or just spend a lot of time walking back and forth on a warehouse floor at work, too much time walking on concrete can be a problem. We have some great recommendations for shoes to protect your feet and joints.
Is Walking on Concrete Really Bad for You?
Does it really matter where you walk? It's understandable that you might think concrete is harmless. After all, concrete has been around since since ancient Roman times, and plenty of people spend hours walking on it each day.
However, the reality is that it can actually add up to a lot of health problems.
In 2005, a group of researchers from the California State University carefully tracked the effect of floor surface on test subjects' feet (1).
They found that walking barefoot on concrete put far more pressure on the feet than walking on carpet, grass, and other terrain types. Test subjects got a lot of high variations in pressure along the plantar fascia, a ligament that stretches across the feet.
Over time, this constant high pressure puts an excessive amount of strain on the feet. It can cause inflammation and damage to the delicate bones and ligaments that are responsible for supporting our entire body.
This might sound concerning, but there is some hope. The study noted that wearing the right type of shoes could significantly decrease the differences in pressure.
The problem with concrete is a combination of both its rigidity and its evenness. The firm surface puts unrelenting pressure on the same areas of the body over and over again.
Over time, this can add up to a lot of wear and tear on the joints. In old age, you may end up with painful arthritis due to all the pressure you have put on your joints.
The Secret to Exercising on Concrete Without Pain
Unfortunately, there's no way to avoid concrete entirely in the modern world. If you want to avoid plantar fasciitis, achilles tendinitis, bunions, and all sorts of other problems, then you need to find a way to adapt to exercising on concrete.
The key to spending a lot of time walking around on concrete without doing lasting damage is a shoe that is both supportive and cushioning. A 2012 study from the University of Colorado discovered that wearing shoes helps you to exercise more efficiently (2).
Cushioning is helpful because it can absorb some of the shock to your joints as you move around. However, getting the squishiest shoe possible can actually do more harm than good.
A shoe that is too soft may throw off your natural balance and make it difficult for your body to move into positions that naturally reduce stress on joints. Excessively soft shoes can also decrease the feeling of stress and impact without actually changing the impact, so we are more likely to walk in ways that can be damaging in the long run.
Therefore, you ultimately need a shoe with more of a mid level of cushioning than a high or low cushioning level.
In addition to cushioning, we also need support in shoes that we will wear on concrete. The human body is remarkably efficient at absorbing shock when we have proper posture and foot positioning.
However, many people tend to do things like roll their feet outwards or put too much weight on their arches. This is one of the major causes of foot injuries.
To avoid it, you need a supportive shoe that will help your feet to stay in the right position while you walk on concrete.
What to Look for in Walking Shoes
We know it can easily get overwhelming when you have hundreds of shoe options to pick from, so here's a few tips for shoe shopping!
First of all, you need to pay attention to the overall shape of the shoe. A shoe for walking should have a heel that is no more than one inch off the ground. You want a toe that curves up slightly, so the shoe rocks upwards when you put pressure on the toe.
Walking shoes need to be a little more flexible than running shoes, since you do not put as much pressure on them. It should bend at the ball of your foot instead of in the arch, and it needs to be able to twist a little from side to side.
Of course you can also take appearance into account. There are a lot more styles for walking shoes than running shoes. You can pick ones that look like standard athletic equipment or find cute ones disguised as normal footwear.
Fortunately, you no longer have to sacrifice fashion for function when shopping for walking shoes. There are a lot of sleek designs available in great patterns and colors, so you can look for something that matches your clothing.
Once you find a shoe with the right level of support and style, all you need to do is make sure it fits. A good walking shoe should let you spread all of your toes flat on the ground.
While it should fit closely around the toe and heel, never pick something too tight. Standing up for a while can make your feet swell.
Note: If you click some of the links in this article we may earn a small commission at no additional cost to you.
The Best Shoes for Walking Around on Concrete

Skechers made a shoe just for walking, and we find that it performs very well on concrete. The soles are cushiony while still being very responsive and lightweight. We like that you can pick the lace-up version for extra adjustability or select the loafer version if you want to pull on your shoes quickly and conveniently.
Pros
Fabric upper easily conforms to unusual foot shapes.

The rubber sole has a bouncy feel that makes your footsteps spring even on hard concrete surfaces.

Skechers produces a nicely affordable shoe that is budget friendly.

The sole conforms to your feet but still gives you enough support.
Cons
Not as much arch support as some other options.

The mesh fabric may collect bits of dust and grime rather easily.

People may need to go a half size up to find a shoe that fits them properly.

We like these shoes for walking on concrete because they have a midsole made from Asics' special SoLyte foam that is supportive while being lightweight. Gel cushioning systems in both the rear and forefoot provide comfort whether you land on the heel or the ball of your foot when you walk. A sturdy midsole section supports the arches and helps to reduce knee and back pain.
Pros
Both men's and women's sizing available.

Padding along the tongue and collar keep the shoes from rubbing against your ankle as you walk.

The ortholite sock liner reduces blistering while giving you anti-microbial protection.

A textured sole gives you stability on even extremely smooth concrete surfaces.

Mesh panels throughout the shoe keep your feet from getting overheated on walks.
Cons
Not suitable for those with very wide feet.

The style of the shoe is a little bulky, and they do not come in many cute colors or designs.

These shoes stand out from other options on our list due to their unique design and construction. Instead of looking like an athletic shoe made of rubber, fabric, and plastic, these look more like a leather loafer. They are ideal for people who are walking on concrete but still need a shoe that looks decently professional or put together. Despite their sleek appearance, the Clarks manage to be just as comfy as athletic shoes.
Pros
100 percent leather material conforms to the shape of your foot.

An Ortholite footbed materials provides orthopedic support while being lightweight.

The shoes come in several neutral shades, so you can get something that matches many outfits.

Textured nubs along the sole give you extra gripping when walking on slippery areas.

Clarks puts extra padding in the ball area for more comfort.
Cons
Not as budget friendly as other styles.

A lack of laces make it difficult to adjust the fit properly.

IT may take a little while for the leather to soften up.

Though Adidas calls these a running shoe, we actually find that they are perfect for walking long distances. A durable rubber outsole gives you the support you need, yet the shoes are still lightweight and flexible enough for casual walks. Their comfortable textile upper is form fitting yet does not cause blisters.
Pros
Tabs on heel and tongue make it easy to pull the shoes on and off.

The sockliner made of cloudfoam memory foam moulds to the shape of your foot, providing a custom fit.

Neutral color and design looks sporty without being tacky.

Great for those with wide feet.

A texture along the sole helps to prevent slipping.
Cons
Sizing runs a little on the wide side.

Due to the fitted shape, getting them on may be slightly challenging.
Our Top Choice
All of these shoes are great, but we often find ourselves going back to the Skechers Go Walk 4. When you are going to be spending a while walking around on concrete, Skechers are sure to keep your feet properly supported all day.
Another reason they make the top of our list is their looks. They manage to be properly cushioned without being bulky, and you can pick the right color needed to match the rest of your outfit. This versatile shoe works for everything from walking around a theme park to going for a daily walk after dinner.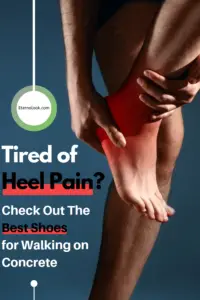 Sources
(1) https://www.ncbi.nlm.nih.gov/pubmed/16221460
(2) https://www.runnersworld.com/gear/a20806067/barefoot-vs-running-shoes-which-is-surprisingly-more-efficient/