Getting fit is always tough, and it can be even more challenging when you're diabetic. If you struggle to get enough protein in your diet, we have the solution to your problem. Keep reading to find out all about great protein powder choices for diabetics.
Do You Really Need a Protein Supplement?
Many people think a protein powder isn't actually necessary because they eat protein rich foods already. Before you decide to skip out on the supplements, you need to know how much protein you should really be taking.
According to Dr. Amy Campbell, a diabetes management expert, adults with diabetes need at least .36 grams of protein per pound of bodyweight (1). This is about 46 grams of protein each day for the average woman or 56 grams for the typical man.
It is true that a typical diet, that might include things like chicken breast, milk, eggs, and whole wheat bread, might provide you with your bare minimum protein requirements.
Unfortunately, if you are one of the many diabetics who is supposed to be avoiding saturated fats and cholesterol, a lot of common sources of protein are not available. You might end up struggling to get enough protein in your diet without a supplement.
Protein powder is even more essential if you are active. People looking to build muscle need at least .45 grams of protein per pound of bodyweight while those who plan on running around or doing other endurance-based exercises might need around .9 grams of protein per pound of body weight.
Why Do Diabetics Need Special Protein Powders?
You might think that just about any protein powder would fit into your diet since protein powders are mainly just protein, but this actually is not true.
As the staff at the Mayo Clinic explains, people with diabetes need to avoid excess fat and sugar while eating plenty of fiber and protein (2). This helps to reduce blood sugar spikes and help people to get to a healthier weight.
If you take a look at the typical protein powder nutritional label, you will notice that it has around 5 grams of carbs and a couple grams of sugar per serving. Since protein powder does not have fiber, consuming the carbs and sugars can make your blood sugar spike.
Therefore, you have to be on the lookout for protein powders without a lot of added carbs.
Another thing you should consider if you are diabetic is the type of protein powder. There are all sorts of protein powders made from peas, milk, and many other ingredients.
One of the most effective options for diabetic people may be whey based protein. A 2015 study found that whey protein reduces blood sugar spikes because it makes your stomach digest food more slowly (3).
Ways to Use Protein Powders
Many people resist the idea of getting protein powder because they're imagining choking down a glass of some awful tasting substance, but we've found that there are actually some great ways to eat protein powder.
One of our favorite options is turning it into a smoothie. Blended up with a little fresh fruit and milk, protein powder can be quite tasty.
Another option is cooking with it. There are all sorts of yummy recipes out there for making "protein bombs" that are basically like a tiny, protein-packed dessert.
If you get the right protein powder, you can also try stirring it into foods like oatmeal or soups. With a little experimentation, you can find plenty of delicious ways to boost your protein intake.
How to Pick the Best Protein Powder for a Diabetic
We know that it can be tough to pick a protein powder when there are tons of different styles on the market, so here's a quick run down of the basic types.
In general, protein made from whey isolate is a solid, well rounded choice. Casein powders are similar, but they do not reduce blood sugar spikes as well. Egg and beef protein powders do exist, but they tend to taste a bit strange. If you are vegan or lactose intolerant, there are also some good soy or pea protein options.
The very first thing you should do after selecting your protein type is take a look at the nutrition label. You can find this on the back of the product when looking at a powder in the store, or it should show up somewhere on the company's website.
The main thing to look out for is the amount of protein, carbs, and calories pin the supplement. You want something that is high in protein while being low in carbs. Check out the ingredients listed, so you can avoid ones with excessive sugar or high fructose corn syrup.
Once you've found a supplement with the right nutritional profile, you can start paying attention to taste and texture.
If you want to mix the protein powder into other foods and drinks, then something with a simple, neutral flavor is ideal.
Planning on just stirring it into water and chugging it whenever you need a protein boost? Then you may want to select something with a little flavor added to it.
Note: If you click some of the links in this article we may earn a small commission at no additional cost to you.
Five Delicious Protein Powder Options for Diabetics

This is a nice, simple protein powder without many extra frills. The powder itself is simply a whey protein powder with naturally occuring branch chain amino acids. It earns its spot on our list due to having over 20 different flavors to choose from. This makes it a great purchase for people who cannot stand the taste of typical protein powders.
Pros
You can choose unflavored powder to mix into recipes or tasty flavors like Gingerbread and Rocky Road if you plan to drink it straight.

A scoop provides you with 24 grams of protein and only 120 calories.

Texture is not chalky or gritty, and it doesn't get lumpy when you stir it up.

The plainer flavors are neutral enough to mix into smoothies or other food.

Thanks to the all natural stevia, the powder tastes sweet while only having 3 grams of carbohydrates.
Cons
Due to the unusual flavor options, this does have more artificial ingredients than other protein powder options.
Quattro gets its name from the fact that this protein powder has four different types of protein in it. Its combination of fast acting egg protein, blood sugar stabilizing whey, and slow acting casein means you continue to absorb protein over the course of several hours.
Pros
With 30 grams of protein per serving, this is one of the highest protein contents of all the supplements on our list.

Tasty chocolate, peanut butter, caramel, and vanilla flavored options let you pick your favorite taste.

Magnum Nutraceuticals adds flaxseed to provide you with some healthy omega 3 fats.

Only 2 grams of carbs per serving.
Cons
The artificial sweetener in Quattro is safe for diabetics, but some people prefer to avoid sucralose for various health reasons.

The caloric content is a little on the high side

Since there's no unflavored option, you might find that the flavors taste odd when mixed into some foods.

Pea protein isn't for everyone, but we wanted to include at least one option for a vegan protein on this list. The NOW Sports protein powder is definitely one of our favorite pea based protein options. A single scoop has over 4,200 milligrams of branched-chain amino acids, but there is only one gram of carbohydrates and no sugar in a serving.
Pros
Lactose free pea protein is tolerated by almost all allergen sensitive people.

You get 24 grams of protein in each scoop.

NOW Sports offers vanilla, chocolate, and unflavored options, making it easy to pick the flavor you want.

The finely milled powder dissolves into just about anything as long as you stir it enough.
Cons
There is a mild aftertaste of peas in all of the flavors.

Pea protein has less leucine than whey protein, and leucine is an important type of amino acid needed for muscle growth (4).

MusclePharm is a favorite of bodybuilders due to their practical proteins supplements. When you just want a fast acting protein that doesn't break the bank, MusclePharm's whey powder is a good choice. When you eat a serving, you get 25 grams of protein with just three grams of carbohydrates and one gram of sugar.
Pros
Plenty of delicious flavors make this tasty enough to drink on its own.

With the option of ordering in 2, 5, or 10 pound containers, you can customize the amount you need.

Affordable enough for any diabetic on a budget.

This powder is gluten free and does not have any artificial dyes.
Cons
The overly sugary flavor may not be to your taste.

It can be a little tricky to get this powder to dissolve without any lumps.

We like this protein powder because it is so pure and simple. There are no flavorings, sugars, or carbohydrates in it. All you get from a serving is 25 grams of straight whey protein. This is ideal for people who want to boost their protein intake without having a lot of additives.
Pros
Isopure provides customers with tasty recipes when you make your purchase, so you get ideas for whipping up things like protein pancakes with your powder.

The creamy texture of this shake is very easy to consume or blend into other things.

With just 100 calories per serving, this protein is perfect for people who are trying to lose weight too.

You can try out a one pound option or order a bulk size of 3 pounds for extra savings.
Cons
Since it is unflavored, it can taste a little odd on its own.

A small amount of soy lecithin is included to make the protein blend properly, so people with soy allergies should avoid this option.
Our Favorite Choice
There are plenty of great options on this list if you have specialized nutrition needs like requiring a vegan or casein supplement, but for the average person who just needs a little extra protein, the Optimum Nutrition protein powder is our top pick.
We like that it combines simplicity with a wide variety of truly delicious flavors. Whichever flavor you get, you can enjoy a strong serving of protein without a lot of sugar or carbs that could mess with your blood sugar levels. This helpful supplement will ensure that you get the right nutritional balance each day.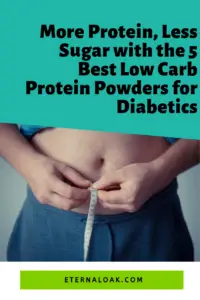 Sources
(1) https://www.diabetesselfmanagement.com/blog/protein-supplements-do-you-need-them/
(2) https://www.mayoclinic.org/diseases-conditions/diabetes/in-depth/diabetes-diet/art-20044295
(3) https://www.ncbi.nlm.nih.gov/pmc/articles/PMC4620107/
(4) https://www.ncbi.nlm.nih.gov/pmc/articles/PMC4307635/