CrossFit can be a great way to shed extra pounds, but it is more challenging if you have plantar fasciitis. However, this does not mean that you have to give up on your fitness goals. We are going to go over some great shoe options for comfortably participating in CrossFit.
Note: If you click some of the links in this article we may earn a small commission at no additional cost to you.
Five Comfortable CrossFit Options if You Have Plantar Fasciitis
The Reebok CrossFit line of shoes is made specifically for people doing CrossFit, but some of the models are a little too flimsy for those with plantar fasciitis. The 7.0 model actually manages to be a good CrossFit shoe while providing enough support. Our favorite part of it is the Nanoweave exoskeleton around the sides that provides a lot of support while still being lightweight and extremely breathable.
Pros
Comes in many colors and sizes.

Soles are stiff enough to provide support throughout the arch.

The 360 degree TPU heel wrap means that the heel counter gently cradles sore feet.

A grippy sole provides enough traction to keep you from slipping during your CrossFit workouts.
Cons
May not be suitable for those with narrow feet.

The cushioning levels in these is a little low.

The high upper can rub against your ankle a little if you don't have the right socks.

This brand started out as a company producing arch supports and other orthotic shoe designs, so it is no surprise that they are frequently recommended for people with plantar fasciitis. They are ideal for those who got the condition from exercising too much on flat feet.
Pros
A dual density collar made of soft foam makes the shoe fit comfortably around the ankle.

You can remove the footbed for cleaning when desired.

A high heel drop of 10 millimeters holds your heels in the right position for many weight lifting activities.

Thick cushioning and an Imeva midsole helps to absorb shock when you are doing plyometric exercises.

More affordable than comparable options.
Cons
Not many colors and designs to choose from.

These shoes tend to look a little bulky, even though they are fairly lightweight, so you may get some comments at your CrossFit gym.

We like that Nike specifically focused on providing plantar fascia support when making these shoes. They are designed to work for weightlifting and other forms of cross training, so they manage to be extremely supportive without being very heavy or bulky. The combination of a mesh upper and a rubber sole and heel counter keep your foot stable without getting sweaty during your workouts.
Pros
A firm and slightly raised heel sole gives you plenty of stability during your lifts.

You can pick tasteful neutrals or fun colors when selecting your shoe design.

The Flywire mid-foot support system uses filaments suspended within the sole to help protect the midsole region of your foot.

Little rubber nubs along the arch provide great gripping for things like rope climbs.

An extra wide toe box lets you splay your toes for better stability while training.
Cons
The sole can be a little stiff for when you are trying to run very long distances.

These are another option made by New Balance that has support while also being a little more lightweight. We like that New Balance took the effort to making a sleek and stylish looking shoe, so you can wear it to places besides the gym without looking odd. The rocker shape of the sole takes a lot of pressure off the sensitive areas of the foot.
Pros
The TPU overlays along the uppers of these shoes give you a lot of lateral support.

Curved grooves along the forefoot provide the flexibility you need for CrossFit.

Plenty of great colors and designs, so you can get something to match your other workout gear.

The removable sock insert lets you clean the shoes whenever you need to.

A signature CUSH+ insole is made from a special material that gives support to your arch while also being very soft and cushiony.
Cons
They are slightly on the narrow side and may need to be ordered a half size up.

Not quite as supportive in the arch as some other designs.

Gel cushioning in both the rear and forefoot of these shoes is great at cushioning your ligaments when doing more high intensity crossfit shoes. As the name implies, these shoes were originally made for triathletes, so they are carefully designed to be lightweight and flexible while still supporting the feet. This is a good all-around shoe for a blend of cardio, bodyweight exercises, and weightlifting.
Pros
A midsole support system wraps around the sole to provide crucial support to the arch.

Due to the shape of these shoes, they are great if you tend to overpronate.

Asics special Solyte material is extremely lightweight.

The firm heel counter is supportive without digging into your feet.
Cons
The bright colors and busy patterns might be a bit much for some people.

You may need to order a half size up because they tend to fit a little tightly.

These can be a little on the pricey side for some people.
Our Favorite CrossFit Shoe Choice for Plantar Fasciitis
The Nike Metcon 2 shoes are an ideal option for the typical CrossFit trainee. You might need something like the Asics Gel Noosa shoe if you are also planning on running long distances, but if your main focus is on normal CrossFit activities, than the Nike shoes are perfect. They are very lightweight and breathable, yet they provide a significant amount of support. Their ability to really grip onto surfaces while holding your heels and ankles in a comfortable position take a lot of the strain off of inflamed ligaments.
Pin it Please!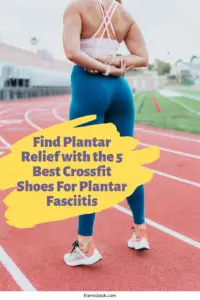 Should You Even Do CrossFit With Plantar Fasciitis?
You might've heard some people say that you shouldn't even be doing CrossFit at all if you are diagnosed with plantar fasciitis. We want to take a bit of time to clear up this misconception before getting farther into our shoe recommendations.
The truth is that even the best shoe won't be enough if you're having a severe flare up of plantar fasciitis. This condition happens when the ligament that goes from your heel to your foot gets inflamed, and continuing to exercise on it can just make it worse.
You may need to follow your doctor's recommendations and take a break from CrossFit for a few weeks to let your feet heal.
This doesn't mean that you will never be able to participate in CrossFit again. Once the inflammation goes down a little, it is perfectly fine to start up CrossFit. Since you aren't on your feet for hours like you would be if you were doing long distance running, CrossFit can actually be a good workout option.
However, if you are not careful, you might end up dealing with a bout of plantar fasciitis pain all over again. This is where the right type of shoe comes in handy.
How to Reduce Plantar Fasciitis Pain With the Right Shoe
In general, the right shoe for a person with plantar fasciitis is going to be all about the support and cushioning. You need something that will hold your foot in a neutral position and absorb shock from your feet hitting the ground. This helps to keep you from putting too much wear and tear on the plantar fascia ligament.
You need shoes with a firm counter, which is the part of the shoe that wraps around your heel, so that it can support your ankle and heel properly. Avoid shoes with a very flexible sole because people with plantar fasciitis need something that offers arch support.
According to expert podiatrist Brian Fullem, another key part of a shoe for a person with plantar fasciitis is the shape of the heel and sole. You want a slightly elevated heel drop of at least 12 millimeters and a "rocker" sole that curves a little bit. This style takes weight off of your sore heels and reduces discomfort (2).
The ideal shoe for your needs will also vary a little depending on your feet. Both very high arches and completely flat feet can cause plantar fasciitis to develop, so you may need to look for a shoe that accommodates your foot structure.
Things Everyone Needs in a CrossFit Shoe
There are plenty of great shoes designed for people with plantar fasciitis, but of course some of these styles are not actually useful for CrossFit.
The sad reality is that you will run into some difficulties when shopping for CrossFit shoes for plantar fasciitis.
CrossFit gyms like 43 North typically recommend shoes with a flat, firm sole and a lack of cushioning (1). This might be good for you maintaining the right positions during weightlifting, but it is generally the opposite of what you need to protect your plantar fascia ligament.
It might be tempting to go with a normal CrossFit shoe like Converse because you want to get the most out of your workout, but it is important to put your plantar fasciitis needs first. You need to be careful to avoid injuries that could put you out of commission for even longer.
Instead of picking a typical CrossFit shoe recommendation, try to look for something that supports and protects your feet while meeting general CrossFit requirements.
You will need shoes that are lightweight enough for high intensity training, supportive enough to remain stable during heavy lifts, and flexible enough for bodyweight exercises.
Will Plantar Fasciitis Shoes Impair Your CrossFit Workout?
As you can see, the main problem that we run into when shopping for CrossFit shoes while having plantar fasciitis is that CrossFit recommends flat, uncushioned shoes while patients with plantar fasciitis need moderate cushioning and a slightly raised heel.
Fortunately, it might not be as big of a problem as you would think it is. You can compromise a little on the padding, because a cushiony shoe won't impair your balance too much as long as it has proper support.
The raised heel is a little controversial within CrossFit, but it is actually very popular in the weightlifting community. Olympic weightlifting shoes tend to have a heel that is raised up to an inch in height. This higher heel drop changes the angle of your ankles, so you can get deeper in squats and other lifts even if you are lacking ankle flexibility.
Sources
(1) http://crossfit43north.com/blog/what-gear-do-i-need-for-crossfit
(2) https://www.runnersworld.com/news/a20826073/does-a-shoes-heel-to-toe-drop-matter/