Proper form is imperative for an effective and safe workout. The best shoes for supination will help to correct your form so that you can run with a lower risk of injury. It is essential to understand the basics regarding supination, and how to pick the right shoes so that you can get the most out of your workouts.
Before picking out the best shoes for supination, you want to learn a little more about supination, its effects and how to correct it. This includes vital information for choosing the right shoes.
What is Supination?
Supination is also referred to as under-pronation. According to North Dakota State University, a normal foot pattern includes the following: (1)
The outer edge of the heel strikes the ground first which is referred to as a heel strike

The foot then supports the entirety of your bodyweight while your feet roll forward to your toes

The forefoot pushes off at the end of the step and once this step finishes, the heel strike happens again
Supination is best described as your foot rolling outward when you are walking or running. This issue can put a lot of stress on the outer edges of your feet and the underside of your feet toward the outer edge.
Too much supination can lead to health issues with your feet. The people most prone to excess supination are those with tight Achilles tendons and people with high arches, according to a running expert at Runner's World. (2)
Causes of Supination
In most cases, supination is an issue that people inherit, making it a genetic problem, according to research published in HHS Public Access. (3) Something with the structure of your foot is abnormal causing this issue. However, certain ankle, foot and leg muscles that are weak can also lead to supination. This lack of strength may result from:
Misalignment of your body

Wearing improper shoes

Prior foot injury that caused muscle or tendon damage
Other possible causes of supination include:
The width of your foot

Having very high arches

Your legs are not the same length

Ankle stability issues
The following are possible complications that can occur as a result of issues with supination, according to the Journal of Athletic Training: (4)
Ankle pain

Outer foot bunions or calluses

Iliotibial band syndrome

Leg and foot stress fractures

Ankle or foot weakness that worsens with activity

Ankle sprains

Clawed toes or hammertoes

Ball of the foot pain

Shin splints

Foot or ankle swelling
How to Tell if You Supinate
The easiest way to determine if you supinate is to examine your shoes. If you notice abnormal wear on the outer edges of your shoes, this is a common sign of supination. Another way is to check out your footprint. Use these steps for this method:
Wet both of your feet thoroughly

Step onto a surface firmly that will show your footprint

Examine your footprint to see if your arch is not fully visible as this suggests supination
You might also consider a gait analysis. A physical therapist or podiatrist will normally perform this test. This test can help you to determine if your gait and posture are abnormal when you are walking or running, according to information published by Science Direct. (5) What the physical therapist or podiatrist observes can tell them if supination is a problem for you.
Ways to Correct Supination
There are several things you can do to help alleviate your supination problems. Since a tight Achilles tendon is a common cause of supination problems, stretching this tendon and your calves is important. You should also stretch the iliotibial band. When you stretch properly, this helps you to maintain proper form and it breaks up adhesions in the muscles, according to research published in the British Journal of Sports Medicine. (6)
Since muscle weakness can also contribute to supination problems, focus on strengthening the various muscles in your legs, lower back and hips. Your podiatrist or physical therapist can usually recommend the right exercises to address the specific muscle weaknesses you may have.
There is orthotics that might be beneficial for people with supination problems. Your podiatrist can recommend the right pair or help you to acquire a custom-made orthotic that is specific to your feet.
Choosing the Right Shoe for Supination
Picking the right shoes is essential to help neutralize your gait and posture when you are walking and running. When you wear the right shoes, this can eliminate your supination so that you can move around safely and comfortably.
To pick the best shoes to help with supination consider the following tips:
Measure your feet so that you pick the right shoe size

Wear socks when you are trying on shoes

Shop during midday since your feet are the biggest at this time of day

Make sure the shoes are not overly tight, but that they have good support

Look for shoes with optimal arch support, extra cushioning and a roomy toe box
Note: If you click some of the links in this article we may earn a small commission at no additional cost to you.
The 5 Best Shoes for Supination

The Brooks Ghost 11 absorbs shock due to having high-energy foam inside the shoe. The neutral support is ideal for supination since it works to stop under-pronation. This ensures that your feet always remain in the proper alignment. The padded and soft collar and tongue provide solid ankle support and work to prevent chafing when you are moving. The firm grip on the sole of this shoe ensures that it works for an array of surfaces.
The arch support is medium to high, making it ideal for alleviating supination problems. This will contour the midsole of the foot and ensure proper alignment. The mesh uppers allow for sufficient ventilation to keep your feet cool and dry in any temperature or environment.
Pros
High arch support

Eco-friendly

Flexible upper

Mesh upper

Firm midsole
Cons
The toe box may be to narrow

People with flat feet might find the arch too high
The Mizuno Wave Rider 22 design works to support under-pronation while providing a stylish touch to your favorite workout outfits. The foam in the midsole is unique, helping to conform to the contours of your foot for optimal support. The Cloudwave sole provides extra cushioning for greater comfort and shock absorption when you are running. The overall design of the shoe provides a responsive feel for those with pronation.
The mesh upper provides ventilation so that your feet do not get too sweaty or hot when you are working out. The mesh also ensures greater comfort and support for your heels and ankles. The midsole is breathable, so while it provides support, it also allows for optimal airflow to further cool your feet when you are running.
Pros
U4IC midsole

Triple zone mesh upper layer

Breathable and light

Cloudwave sole

Sufficient ventilation
Cons
The sizes may run a little tight
The Adidas Edge Lux has a Bounce midsole for enhanced support for people who have supination. However, the shoe also functions as a pure running shoe with versatility and flexibility for multiple running environments. The upper is a flexible synthetic material for additional support and comfort for people who have supination. The shoes conform to the foot due to the elastic closure, ensuring that your foot will not slide around when you are running.
The midsole can correct supination to make sure that you are using the proper form when you are running. It is soft and flexible, but it has enough firmness to keep your foot in the right position. The shape-shift upper alleviates the pain that can occur when someone experiences under-pronation when they are walking or running.
Pros
Bounce midsole

Synthetic flexible upper

They have a knitted look

Optimal fit due to the sock-like construction
Cons
They are not as durable as other similar options
The ASICS Gel Venture 6 focuses on arch support and being a shoe to help correct supination. At the rear of the shoe is extra cushioning to stop under-pronation of the foot. This extra cushioning is breathable so that it does not cause foot sweating. This feature also helps to reduce the risk of blisters since the extra cushioning allows for airflow and it is soft.
You can remove the sockliner from the shoe so that you can insert a special orthotic if you prefer. With the option for a customized footbed, you can ensure that your foot has the support that it needs to remain in the proper position when you are walking and running.
Pros
Flexible and breathable shoe

Comfortable and soft materials

Rearfoot gel cushioning

Removable sockliner

Specially designed for supination
Cons
This shoe has less durability compared to similar options

The toe portion may separate from the shoe prematurely
The Under Armour Micro G Assert 7 helps to prevent supination due to the shoe combining both flexibility and support for your foot. The design works to ensure a natural step whether you are running or walking. The memory foam in the shoes ensures natural contouring to your feet so that the shoes do not slide around when you are wearing them.
The soles of the shoe have a strong grip on any surface. They also allow for added weight distribution due to the extra traction. The EVA sock liner extends the full length of the shoe. It conforms and contours to your feet. This provides optimal comfort and shock absorption. It also works to decrease pressure points on your feet.
Pros
Utilizes Micro G foam

Offers maximum protection for your feet

The EVA shock liner is full length

There is supportive foam in the mesh upper
Cons
The soles may wear prematurely

This shoe may crunch the toes, especially when they are brand new
Our Choice
Our choice is the Brooks Ghost 11. This eco-friendly shoe is ideal for any surface whether you are walking or running. It provides optimal contouring to your feet so that it fits perfectly and does not let your foot slide around when you are wearing it.
The midsole is firm, and the arch support is mid to high, to help prevent supination when you are moving around. Your feet remain in the proper alignment the entire time. The mesh upper ensures that your feet remain dry and cool even during intense workouts in how environments.
The ankle components of the shoe are firm, but also soft, helping to support your ankle without causing blisters or skin irritation. The padded tongue provides extra comfort.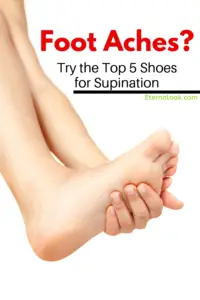 Sources
(1) https://www.ag.ndsu.edu/publications/food-nutrition/walking-select-the-right-shoes#section-4
(2) https://www.runnersworld.com/health-injuries/a20865510/what-to-know-about-supination/
(3) https://www.ncbi.nlm.nih.gov/pmc/articles/PMC4392721/
(4) https://www.ncbi.nlm.nih.gov/pmc/articles/PMC1088344/
(5) https://www.sciencedirect.com/topics/neuroscience/gait-analysis
(6) https://www.ncbi.nlm.nih.gov/pmc/articles/PMC2465055/