Blisters are a common issue, especially among people who are active. Since they can cause varying degrees of discomfort, it is important to do what you can to prevent them. The best socks to prevent blisters can keep your feet safe from blisters even when you are very active.
Athletes and blisters often go hand-in-hand, but they do not have to. Getting some information about blisters and how certain socks can prevent them is essential for making the right choice.
How Do Blisters Occur?
You have probably had a few blisters from running and other exercise and athletic activities. This is a common problem. There are ways to prevent them and the first step is knowing what causes blisters to form in the first place.
In most cases, friction is what causes blisters on your feet. They most often develop on your soles, heels and toes since these are the areas of the feet that receive the most pressure when you are working out.
The friction is often associated with your socks and shoes either fitting too loosely or too tightly. This lets them move around and rub against your skin. Below the skin's upper layer, fluid accumulates resulting in a blister, according to Podiatry Today. (1)
Another relatively common cause of blisters is excessive perspiration or moisture. This is due to moisture increasing the risk of friction because it softens your skin, according to the University of Pittsburg Medical Center. (2)
Athlete's foot is a fungal infection that can also cause blisters when it is a vesicular type infection. The blisters are typically under the skin, and they can develop anywhere on your foot, according to the University of Michigan. (3) In some cases, a bacterial infection can accompany this form of athlete's foot.
How the Right Socks Protect You from Blisters
The socks you wear when you are active can mean the difference between a blister and keeping your feet comfortable and safe. Your socks should create a barrier between your skin and the inside of your shoes. They should fit well and not slide around when you are active.
When your socks prevent friction and moisture, this can prevent blisters from forming on your feet. This is especially important for your toes and heels since blisters are most common on these areas of your feet.
Sock Characteristics to Look for to Prevent Blisters
There are several characteristics to consider when you are picking out socks to prevent blisters. The first is comfort. No matter how beneficial your socks are in other ways, if they are not comfortable, this is going to inhibit your workout. Look for socks that are fitted, offer light compression and will not bunch up. These tend to be the most comfortable for all types of athletic activities, and they will prevent blister-causing friction.
When you are outside in cold weather, you want to find socks that have insulating properties. Just make sure that the insulating fabric is also moisture wicking so that your feet do not get and remain wet. Your feet will still sweat in cold weather.
Wicking ability is imperative for athletic socks. It prevents sweat from building up and making your socks wet. This means that the moisture cannot accumulate and soften your skin to make you prone to blisters. You should also consider socks that dry quickly and have ventilation features.
The materials are among the most important considerations to make. The general recommendation is that you look for synthetic materials, synthetic hybrids and merino wool. You want to avoid cotton since it can overheat your feet due to absorbing sweat without providing adequate ventilation.
Look at the cushioning that socks have. Ideally, you want to see cushioning in the toe area and at the back of the heels since these are two of the most blister-prone areas. The extra cushioning reduces the friction that causes blisters.
Blister Prevention Techniques
The right socks are vital to prevent the formation of blisters. However, there are some other techniques that you can use to further reduce your risk. You can use all of these methods with your anti-blister socks.
Apply petroleum jelly or powder to the areas of your feet that are prone to blisters to reduce friction, according to the American Academy of Dermatology. (4) You might also consider applying soft bandages to these areas to protect your skin against friction.
Make sure that your shoes fit well since ill-fitting shoes can cause friction. Shop for new shoes in the afternoon since your feet are the biggest during this time of the day, according to KidsHealth from Nemours. (5) This will ensure that your shoes are not too tight when you wear them. Your socks should also fit well and not be overly loose or tight.
If you notice friction with a certain area of your shoes, look for insoles that accommodate this area. This can help to reduce friction by adding extra padding to problem areas.
Note: If you click some of the links in this article we may earn a small commission at no additional cost to you.
5 Awesome Socks to Keep Blisters at Bay

Balega Blister Resist Socks use natural fibers that will not irritate your skin even if it is highly sensitive. The fabric combination is Dynamix and natural mohair. The mohair is durable, helping to ensure that your socks last and do not shrink with regular washing.
No matter the season, the fabric will keep your feet comfortable because it is able to regulate temperature. The Dynamix component wicks away moisture to keep your feet dry. The microfiber mesh panels offer ventilation for your feet.
The toe box is seamless, helping to eliminate chafing and friction for this area of your feet. The back of your heels gets extra protection from the deep heel pocket and heel tab. The socks also offer adequate cushioning for any athletic activity.
Pros
These socks do not slide down

The socks prevent chafing

They do not shrink when you wash them
Cons
They may not be true to size (too small)
Rockay Accelerate Anti-Blister Running Socks use an organic merino wool material. This material prevents friction to reduce the risk of blisters and chafing when you run. It also resists odor. At the heel and toe areas of the socks are extra padding. This extra cushion prevents blisters in these areas. The cushioning also reduces the risk of skin irritation.
These socks have a snug fit due to the gentle compression that they offer. At the top of the ankle is a tight elastic band. This elastic band keeps the socks in place no matter how hard or fast you are moving. Your feet will stay dry and comfortable due to the ventilation zones and breathable material that makes up these socks.
Pros
These socks are unisex

They offer gentle compression

The socks do not slide down into your shoes
Cons
They may be uncomfortable for those with extra wide feet
Pure Athlete Anti-Blister Running Socks wick moisture away from your skin so that your feet stay dry and cool when you are running. The Dot Technology involves strategically placed dots throughout the body of the sock to prevent blisters and skin irritation. There is also extra cushioning at the heel and toe areas to further prevent chafing and blisters on these areas of your feet.
Your feet stay comfortable since there is a breathable mesh at the top of the socks. The cuff elastic at the ankle prevents the socks from slipping down into your shoes when you are moving. These socks use a lightweight material that hugs your feet without being too tight and uncomfortable.
Pros
The sock's fabric does not stretch with frequent washing

They fit well under other socks

These socks offer light compression
Cons
They may be about a half size smaller than the size states
Dimok Blister Resistant Running Socks are ideal for all types of athletes, from elite runners to football players. The material works to wick moisture to prevent your feet from getting and staying wet. This material also helps to promote a steady temperature so that your feet do not get too sweaty. These socks also help to reduce friction for further blister prevention.
These socks have antibacterial and deodorizing properties. They are lightweight and breathable, ensuring optimal comfort when you wear them. The toe and heel have extra cushioning to prevent blisters and discomfort. The heel has a tab that protects this area of your foot from blisters. The socks will not slide due to the elastic band that keeps them in place.
Pros
The fabric is soft and comfortable

The socks are true to size

They do not slide around on your feet
Cons
They may be too thick for some shoe types

ArmaSkin Extreme Anti-Blister Crew Socks are ideal for all people prone to blisters, from avid walkers to competitive athletes. These socks have a silicon fusion polymer coating on the inside of the socks. It prevents friction by gently adhering to the skin. This coating is hydrophobic and porous, helping to take moisture away from your skin.
The socks help to dissipate heat to reduce the risk of excessive feet sweating. They also work to resist bacteria, making them ideal for long workouts, hikes or other activities.
Put these socks directly onto your feet. You can wear normal socks on top of them for added warmth and cushioning. Make sure the stitching is on the outside so that the coating is in contact with your skin.
Pros
The socks can accommodate wide feet

They keep your feet cool

They do not move once you put them on
Cons
Our Choice
Our choice are the Balega Blister Resist Socks. They work with all shoe types and for all athletic activities. They use natural fibers to ensure optimal moisture wicking and friction prevention. Since friction and wetness contribute to blisters, preventing these issues keep your skin safe and comfortable.
These socks keep your feet cool due to the ventilation panels no matter how hot the environment is. They also promote gentle warmth when you exercise in cold weather. They offer further blister prevention due to the heel tab component. The materials that make these socks are ideal for all skin types, including very sensitive skin.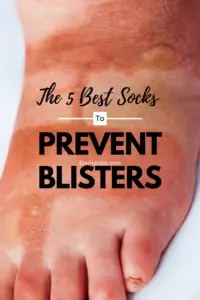 Sources
(1) https://www.podiatrytoday.com/how-to-manage-friction-blisters
(2) https://share.upmc.com/2017/02/how-to-prevent-blisters/
(3) https://www.uofmhealth.org/health-library/hw28392
(4) https://www.aad.org/public/skin-hair-nails/injured-skin/blisters
(5) https://kidshealth.org/en/kids/blisters.html