Are you looking to start intermittent fasting?
Heard about 5:2, 4:3, or Alternate Day Fasting and want to learn how to do it?
This article will cover what 4:3 or Alternate Day Fasting is, how to do it, and how much weight you can expect to lose.
Quick Start Guide to the 4:3 Diet
How does the 4:3 Diet Work?
The 4:3 diet stands for 4 days of normal eating and three days of fasting.
It's also know as Alternate Day Fasting or Every Other Day Fasting.
It was researched and made popular by Krista Varady in her book "The Every Other Day Diet."
It's also closely related to the 5:2 diet which stands for 5 days of normal eating and 2 days of fasting. You can read more about 5:2 in our other article.
Now, 4:3 doesn't mean you eat nothing on fasting days.
Instead you'll eat 500 calories on fasting days and then eat normal on days where you eat. See below for 4:3 diet meal plans and a printable schedule.
Watch Dr. Varady's quick explanation of the diet here:
How to do the 4:3 Diet or Alternate Day Fasting
To do the diet simply choose 3 days a week to fast. The most common days are Monday, Wednesday, and Friday.
Then plan to eat normal on Tuesday, Thursday, Saturday, and Sunday.
On fasting days plan ideally one meal that's 500 calories.
The easiest way to do that, and the one that was most successful in Dr. Varady's research, is to grab two frozen dinners from the grocery store that add up to 500 calories or one dinner that was just under 500 calories.
That way everything is measured and on point.
Do not spread the 500 calories over the day. In her book Dr. Varady described that when people did that they always ate more than 500 calories and slowed their weight loss.
Is 4:3 or Alternate Day Fasting healthy?
Studies have shown that every other day fasting has incredible health benefits:
What will the 4:3 diet cost me?
Fasting itself is free but fasting isn't easy.
There's work to fasting and in this section will cover those costs.
First, you will have to at least plan your meals on fasting days and stick to that plan.
Next, to get faster results, you need to setup meal plans on your normal eating days.
Do not binge on eat days. You'll reverse everything you accomplished.
In Dr. Varady's research she found that on average people did not binge on normal eating days.
On fasting days they would eat 500 calories. On normal days they would eat 2500 calories.

For a 2000 calorie diet that averages out to 1,500 calories a day.

1,500 calories a day is exactly where you want to be to lose one pound a week safely.
Download and Follow one of the meal plans below and you'll have that covered.
Next you'll need to learn how to handle the downsides of fasting:
Hanger
Bad breath
Boredom
Negative comments from friends and relatives
We cover how to handle all of these issues in the Cons of Fasting section below.
Lastly, you'll need to track your progress and your eating.
Are you eating too much on normal days?

Is your weight loss stalling but your clothes are fitting better?

How much are you losing per week? Is it safe?

To know you must track. We'll cover that in the next section.
Are you willing to pay the price of the 4:3 diet?
Set a meal plan, learn the cons of fasting and how to overcome them, and start tracking your progress.
Do that and your costs for the 4:3 diet will be paid in full.
Next let's cover what to track.
Measurements to track
What gets measured gets done.
Here are the things you need to track on the 4:3 Every Other Day Diet.
Scale – Use a scale to measure your weight in pounds or kilos. You'll record these results in a fitness app or on a google sheet.
Pictures – Take before pictures then a new picture of yourself every Monday morning. Use the same lighting and location (e.g. in the bathroom). It's very common to drop fat without seeing the scale move. You will see this in a series of pictures taken.
Measurements – Measure your waist every Monday. Also record this in your fitness tracker. For men measure the waist at the belly button. For women, measure the waist at the smallest point of your torso between the bottom of your rib cage and your belly button. That's often about 2 inches above the belly button.
Fitness apps – Use a fitness app like Myfitnesspal or similar to track your progress. With Myfitnesspal you can add weight measurements, waist measurements, and photos. Then it graphs your results.
Google Sheets – Myfitnesspal doesn't do it all. It makes beautiful weekly graphs and trends but if you want to see averages over longer periods then you'll need your own spreadsheet to do the tracking. 
4:3 Diet Meal Plans and Schedule
Want to make things easier?
Download our 4:3 Diet Sample Meal Plan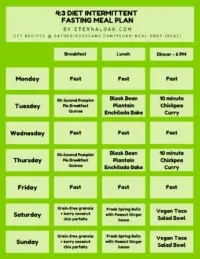 or Make Your Own with Our Fillable, Printable Fasting Meal Plan PDF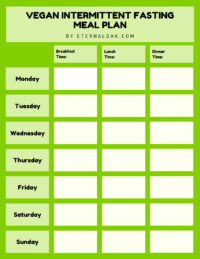 Fasting Tips
Nobody said fasting is going to be easy.
The most common tough points are:
Hanger – getting angry while hungry
Hunger – just plain hungry
Boredom – finding you have more free time and energy than expected
Use these tips to get through the tough points.
Stay Busy – Plan to do most of your work during fasting days. You'll have more energy than you expect which in turn creates more time. Get some sh*t done!
Stay hydrated – Don't confuse thirst with hunger. Get a gallon of water and drink it all day. Keep it heavily iced. A cold stomach dulls hunger
Grab a coffee, diet soda, or tea. Make it cold or hot. Caffeine and cold dull hunger and keep you motivated.
Get help – Join fasting facebook groups. Find friends. Help them when they need it and ask for help when you need it.
Get distracted – watch TV, scroll instagram, keep your mind busy. Better yet, go for a long hike/bike/paddle where you don't have access to food or to food advertising.
Use Guided Meditations – Try these free meditations on youtube for controlling hunger. Number 2 is 8 hours long!!!
Before you start fasting
Lastly, before you start fasting, do these three things:
See your doctor. Talk to them about fasting. If they aren't a fan get a second opinion! Fasting is powerful and can be dangerous and your doctor can keep you safe.

Read the pros and cons below. Decide, is this worth the cost? Fasting isn't easy or for everyone. 4:3 is For REAL!!! You'll like the results but you have to pay the price.

Watch the BBC documentary Eat, Fast, and Live Longer by Michael Mosley. In fact, buy it. Why? So you can watch it on fasting days and stay the course!
Pros of the 4:3 Diet
Fasting with benefits. Yes, fasting can do some great things. Here's just a few tidbits from the studies on Alternate Day Fasting (ADF):
Cons of the 4:3 Diet
Bad breath increased (

4

)

Constipation, weakness, or dizziness in 20% of cases (

4

)

Boredom – The upside is you have more energy. You get sh*t done. You also will run out of sh*t to do and get bored.
Negative Comments – Tell your friends and family if you think they'll support you. Expect some (or many) of them to hate the idea. And when it happens head back over to the fasting Facebook groups and reddit threads for support (see below).
Join these groups for support while fasting. Remember, first support others before asking for support in return.
4:3 Diet Reddit Threads
4:3 Diet Fasting Results and Success Stories
Check out the following 4 articles of 4:3 success stories/case studies.
And a few more youtube success stories of people using 4:3.
Frequently Asked Questions about 4:3
How much weight can you lose in a month with 4:3 intermittent fasting?
See the example success stories above. On average, 4:3 fasters lose 1-2 pounds a week or about 6 to 9 pounds a month.
Does the 4:3 diet mess up your metabolism?
No. It speeds your metabolism up.
A study of 11 men found that resting energy use increased even on day one of the fast and increased up to 14% overall throughout a 4 day fast (11)
Another study found the resting metabolic rate to increase after just 36 hours of fasting (12).
Should you fast on consecutive days or do the 4:3 split?
Just do 4:3. It's true that the longer you fast the more fat you burn and the more your body uses autophagy to detox.
It's also true that too much dieting or fasting intensely will burn you out and make you quit.
4:3 was designed to make fasting easier. A few two day fasts might burn fat but you will likely get sick of fasting.
The consistency of 4:3 will help you stick with it longer. Remember, you'll only lose 6-9 pounds a month for each month you stick with it.
Don't be a quitter. Do what it takes to stick with it – do 4:3.
Extensive research has been done on fasting and bodybuilding. If you are in growth phase then you'll need to eat more on normal eating days.
4:3 works best with cutting phases of a bodybuilding plan. As long as you keep lifting and stick to the meal plans you will not lose muscle on 4:3.
What if I do 4:3 and don't see weight loss?
Check your food logs to see if you are eating too much on normal days. Use the blank meal plan above and try new meals that are easier to stick to.
Don't give up! You can make this happen.
If you tried 4:3 and it's too intense then dial it back with 5:2 or 16:8. See our full set of intermittent fasting meal plans for more options.
Be strong, share this pin!