Do you want to make your workout more intense while possibly reducing the risk of cancer? Would you like to have more energy?
I don't know why I'm asking, because I'm sure pretty much everyone in the bodybuilding scene would! Multivitamin capsules promise all this and more, but they also offer a load of confusion.
When it comes to the best multivitamin bodybuilding experts are split. Everyone has their own personal favorites. I was stumped myself, so I decided to do a whole bunch of research before I decided to trade in my regular bottle of pills. In the end, I was glad I did!
Now I want to share my findings to give you a better picture of how to go about choosing a supplement that meets your needs.
Benefits of Multivitamin Supplements for Bodybuilders
Dr. Jim Stoppani, one of the top bodybuilding researchers around and an owner of a very nice pair of biceps, wrote that multivitamins are almost an absolute necessity because even the most health-conscious bodybuilders don't eat a perfect diet (1).
Eating the amount of food necessary to get every type of vitamin and mineral you need would give you way too many calories according to Stoppani's research, so this is a rare opportunity to get real nutrition without adding fat and sugar to your diet.
Micronutrient loss is a really big problem as well. If you'r a workout warrior, then you're probably sweating or otherwise purging a whole bunch of nutrients out according to Stoppani. You need these nutrients to stay healthy. Dr. Josh Axe, author of the bestselling book The Real Food Diet, laid out all of the following benefits of the various vitamin B complexes alone: (2)
Form new blood cells and nerves

Fight heart disease

Battle anemia

Stave off dementia and confusion

Reduce bad cholesterol

Give you a boost of energy

Support lean muscle tone
The last one has always been the biggest for me, because I'll fully admit that my cheat days have turned into cheat weeks that absolutely suck as far as muscle building go.
A whole slew of authors writing in the Journal of the American College of Cardiology felt that there was also at least some evidence for supplements with folic acid reducing the risk of cardiovascular problems as well as vitamin B cutting down on stroke risk (3).
While they also said that you have to weigh the benefits with the risks, this shouldn't be a problem. I'd like to think that most bodybuilders a little too smart to swallow a whole bottle of vitamin capsules at once!
Alphabet vitamins, which are those with letters after them, can help you maintain a healthy body weight as well. Have you ever taken a few months off from staying in competitive shape only to find that you're struggling to get back into it?
Famous spots dietitian and fitness researcher Trinh Le wrote that proper alphabet vitamin supplementation can actually help us keep a healthy weight and loose some fat (4). Best of all, you might be able to take your workout to the next level if you fix a vitamin deficiency that's been holding you back for the longest time!
Things to Look for in a Multivitamin
Not all supplements are created equal. I was originally taking some garden variety supplement that I would get at the corner drug store. When I finally looked at the label, I noticed that the thing was loaded with fillers! Some of them have stuff like AP flour that's essentially just junk they're charging you for. It also didn't have enough vitamin D for my needs.
Make sure that it has plenty of those so-called alphabet vitamins. Many of us don't get enough vitamin D, and that was my problem. Researchers at the US Department of Health & Human Services did a survey and found that countless multivitamin supplements lacked sufficient levels of calcium and magnesium to meet the needs of regular consumers (5). That means they have way too little if you're bodybuilding.
Look at the label and pay attention to all those daily values on it. The blocks on the back of vitamin jars read just like the ones on any other food product, so you won't have to have just written your doctoral thesis on bodybuilding to figure out whether you're looking at a good product or not.
Note: If you click some of the links in this article we may earn a small commission at no additional cost to you.
Choosing the Best Multivitamin for Your Bodybuilding Regimen
If you train hard, then you're going to want to pick something that has plenty of water-soluble vitamins in it as well. Dr. Stoppani wrote that you want to be sure you're getting at least 100 percent of the daily value of every mineral out there and probably much more than that of all the alphabet vitamins (6).
This is also partly because you're probably drinking a ton of water. Vitamin B complexes and particularly riboflavin get washed out with the rest of your waste, which is why you might notice an odd color in the toilet when you start using your new supplement. Nothing is wrong, per se, but if you don't have the right kind of supplement for your regimen you'll be sending any good it could do for you straight down the drain.
Keep in mind that there is too much of a good thing! Taking a huge amount of vitamins all at once can make you real sick. You're probably also getting at least something out of your diet too.
When I first started adding eggs heavily to my diet to get extra protein and started using a strong protein powder at the same time, I started to feel weird. Turns out I was getting way too much vitamin D and iron, which can be pretty bad for you. It was a real eye-opener since I was deficient in these things when I first started training.
If you don't mind spending a bit more for a clinically-proven high-performance blend that's geared toward professional athletes, then Legion Triumph supplements might be for you. There have been so many studies done to see what the ideal nutrient proportions are for people who are extremely active. Legion Athletics took a number of these and based their supplement around consensus findings.
While those with a vitamin D deficiency might not find enough here to fix their problems, most active people may consider this one of the better options available to them. It's a durable supplement that you won't simply sweat away even if you're taking it on days you mix cardio and lifting.
Pros
Contains no artificial sweeteners or flavors

Purified to eliminate unnecessary amino acids

Features extra minerals to reduce inflammation
Cons
Recommend dose may be excessive

Pills smell weird

Needs more vitamin D
Quite possibly one of the better-known multivitamin supplements for bodybuilders, Opti-Men offers vitamins C, D, E, B12 and a number of others in doses that are going to stand up to the rigors of hardcore workouts and drinking loads of water. If you're a beast in the gym, then this may be an ideal choice because its focused on replenishing the necessary micronutrients you're going to need when you hit the weights.
While Optimum Nutrition's product has been on the market for several years now, they've recently took some steps to reformulate it. The new product isn't quite as fragile as it used to be, so you can feel more confident about throwing it in your gym bag. It's reasonably priced too.
Pros
1,500 IU of Vitamin D in each dose

Made with a full 75 different ingredients

Offers 25 different vitamins & minerals
Cons
Pills can crumble very easily

Product is sensitive to moisture

Each dose consists of three tablets
Those looking to save a little money by buying in bulk may want to look into VitaMode, because it generally commands a slightly lower price-per-dose than many other bodybuilding supplements. You've probably heard of Evlution Nutrition as a vendor of protein powders, and their multivitamins are made with the same attention to detail in an FDA-approved GMD certified facility in the USA.
These shouldn't upset your stomach even if you take them when you haven't eaten, and they have enough lutein and other nutrients to really kick start your workout. Those using them only need to take two per day.
Pros
Gluten Free

Vegetarian

Additional minerals support bone, eye and skin health
Cons
Pills crush very easily

Extremely strong smell

Very weird taste
BodyBuilding.com recently reformulated all their supplements, so this multivitamin is very new to the market. That means the amounts of each ingredient added to it are based on all of the latest gym-tested research. While it doesn't come with the ridiculously huge list of nutrients that some supplements do, the 29 vitamins and minerals it features are among the most important especially for men who are extremely active. This is a solid choice if you've been dealing with dietary problems while struggling to cut fat and build leaner muscle.
Pros
Plenty of alphabet vitamins

Label clearly spells out everything in it

No fillers
Cons
Too much niacin for some men

Bit on the expensive side

Added kelp makes it taste weird
GNC is known for a large number of bodybuilding supplements, but their Mega Men multivitamin capsules feature some ingredients designed to promote overall health as well as performance in the gym. Selenium, lycopene and extra vitamin E can help reduce the risk of prostate problems while the advanced antioxidant blend is designed to fight back against all the issues that come with aging. It's certainly one of the stronger ones around, which might be just what you need if you're on a fairly restrictive diet while training. It's one of the few blends out there that's also designed to fight the production of free radicals too.
Pros
Inexpensive

Time-release capsules

A full 1,600 of Vitamin D3 in every dose
Cons
Includes some fillers like caramel

Must be taken with food because of the strength

Includes inorganic copper
Our Choice
Opti-Men multivitamin supplements are a great choice if you need a multivitamin that's going to give you enough of every nutrient to build yourself up from doing really stressful workouts. If you're looking to save a little money and don't mind getting slightly less vitamin D out of your supplement, then you might want to look into Legion Triumph's daily multivitamin. It's got a balanced selection of the alphabet vitamins coupled with some extra minerals.
Evlution Nutrition's VitaMode is a good budget option, especially since you'll only need two pills per day and can stretch out the supply. It's also a good option if you're looking for something that's going to pack a punch and you're worrying about how you've eaten lately. That being said, any of these choices should be sufficient if you make sure to avoid too much in the way of cheating.
Pin it to win it!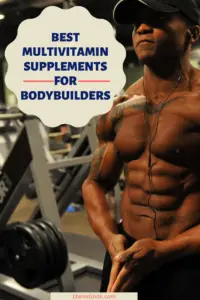 Sources
1 – https://www.jimstoppani.com/supplements/multivitaminmineral-roundup
2 – https://draxe.com/vitamin-b/
3 – http://www.onlinejacc.org/content/71/22/2570
4 – https://blog.myfitnesspal.com/ask-dietitian-micronutrients-helpful-weight-loss/
5 – https://ods.od.nih.gov/factsheets/MVMS-Consumer/#h5
6 – http://jymsupplementscience.com/the-problems-with-most-multivitamins/