Lifting weights is a great way to get back into shape, but it can be surprisingly difficult if you have carpal tunnel syndrome. Those who want to build muscle and drop fat may need special protective gear. Here's what you need to know about weight lifting gloves and carpal tunnel.
Note: If you click some of the links in this article we may earn a small commission at no additional cost to you.
Nordic Lifting Weight Lifting Gloves
Schiek 540 Platinum Lifting Gloves
Trideer Weight Lifting Gloves
Mava Sports Cross Training Wrist Support Gloves
Steel Sweat Weightlifting Gloves
Five Favorite Workout Glove Picks for Carpal Tunnel Syndrome
Made by Nordic Lifting, these gloves have an integrated wrist support to keep your arms and hands in the proper position while working out. The wrist straps are 12 inches long, so they will feet even those with very wide wrists. Thanks to their protective coating, new lifters do not have to worry about getting blisters and calluses from repetitive movements.
Pros
Light padding makes it comfortable to lift weights without getting in the way of your workout.

Nordic Lifting has sizes designed specifically for male and female hand shapes.

Elasticated material along the thumb and back provides plenty of flexibility.

Sweatproof dye does not turn your hands black if they get wet while wearing the gloves.
Cons
The gloves do not have a lot of texture, so it can be tricky to keep your grip while wearing them.

Those with larger hands may not find a size that fits them.

With ⅛ inches worth of gel padding, these gloves from Schiek provide a comfortable fit when weight lifting. Even more importantly, they have a diagonal wrapping wrist strap that is nice and wide, so it helps to protect and support your wrists. This strap closes with a velcro material, so you can adjust it to the ideal level of tightness.
Pros
Five size options make it easy to pick the right size.

Machine washable material makes it easy to take care of gloves.

The synthetic leather material is very sturdy and long lasting.

Easy-off fin design lets you easily take off the gloves even when your hands are sweaty.
Cons
The "Schiek" logo on the strap tends to shred and wear off eventually.

The gloves may be too bulky to easily grasp weights if you have smaller hands.

A nice thing about this option is that they 18 inch Velcro straps around the wrist. This lets you wrap the gloves at a longer angle, so you can keep your wrist from twisting around. Since they are machine washable, they are very easy to care for.
Pros
With multiple colors, you can avoid mixing up your gloves with all the other black gloves at the gym.

A silica gel insert in the palm keeps weights from grinding against your hands when you lift.

The microfiber material on the hands of the gloves is comfortable and flexible.

Gripping pads along the fingers help you to hold onto your weights.
Cons
Gloves can feel a little on the warm side after lengthy exercises.

The wrist straps tend to loosen during lengthy workouts, requiring occasional readjustments.

This wrist brace for lifting weights is an unusually lightweight option. It has an open hand design, so your knuckles and the base of your thumb are exposed. This makes the Mava gloves a good option for people who typically deal with their hands overheating while they exercise.
Pros
A silicone coating on the palm of the gloves makes sure that you get the perfect amount of grip.

The neoprene fabric is lightweight and breathable.

An integrated wrist wrap can be adjusted to your ideal fit and tension.

These gloves have a huge range of color options to make your gym outfit look interesting and unique.

The leather material provides padding while protecting your palms.
Cons
Due to the opening at the top of the wrist, these gloves do not provide quite as much stability as other options on the list.

At 18 inches long, the wrist wraps on these gloves can be doubled or wrapped at an angle for extra stability. Another great thing about them is the anatomically shaped padding that provides flex points along the natural creases of your palms and fingers. These are perfect for people who need a lot of support and comfort from their gloves.
Pros
The CoolWeave performance material wicks away moisture and provides plenty of ventilation.

Pull tabs along the fingers and thumbs help to quickly remove the gloves after your workout.

Finger expansion seams let the gloves stretch to provide a custom fit.

Double layered amara leather studded with rubber grips gives you plenty of traction to hold onto weights.

The heavy duty double seams result in a nicely durable glove.
Cons
Only one color to choose from

The leather material may take a few workout sessions to soften up.
Our Choice
After reading all of these reviews, you probably want to know what the best option is! Of course any of these options is going to give you a comfortable experience, but the Steel Sweat weightlifting glove is the overall favorite choice.
They manage to be a bit more flexible and breathable that other items on the list. In addition to being comfortable, they also provide a lot of support for people with carpal tunnel. The cushioning and grip lets you easily grab onto and lift heavy weights. With these on, you can focus on building muscles and getting fit instead of being distracted by sore wrists.
Can You Exercise With Carpal Tunnel Syndrome?
The carpal tunnel is a narrow hollow in the wrist that nerves travel through to control the hands. Unfortunately, regular inflammation in the wrist can cause the carpal tunnel to swell until it is pinching the nerves. This ends up causing a lot of pain in your hand, wrist, and lower arm.
If you have carpal tunnel syndrome, you might be thinking that it is impossible to lift weights or do any other exercise that involves your hands and wrists. You can end up with more damage and pain if you workout incorrectly.
With the right technique and protective gear, there is actually a way to get fit even if you have carpal tunnel.
The key to exercising without having pain shoot through your arm is supportive braces. Fortunately, there are plenty of great gloves that give you protection while helping with your exercises.
The American Academy of Orthopaedic Surgeons also recommends doing stretches and hand warm ups before your workout to reduce the amount of pressure on your nerves (2). During your exercise, be sure to use proper positioning and grips to avoid putting too much stress on your wrists.
With these tips, you can build muscle without having to worry about your carpal tunnel!
Do Workout Gloves Make a Difference?
There are plenty of bodybuilders who don't even bother with workout gloves, so you might be wondering why you should look into exercise gloves. The truth is that many experienced lifters can skip out on gloves without impairing their performance, but the average gym goer should use gloves.
The main thing that a typical workout glove does is just help you to more easily hold a weight and avoid any calluses during weightlifting.
Exercise gloves do provide a better grip on a weight, but this can actually be a problem for those trying to maximize their results. Experts like Brad Potts, the Director of Sports Performance at Lafayette College, explain that people who use gloves may not get as much growth in their forearms because the gloves are doing some of the tough work for the athlete (1).
However, the average person doesn't really care much about forearm muscle definition. If you are just wanting to get more toned throughout your body, being able to hold heavier weights will help you to get better and quicker results.
Workout gloves can generally be a helpful addition to your workout, and they are particularly important if you have carpal tunnel. Those who have wrist problems benefit from gloves because they help to stabilize wrist joints, so you can exercise without damaging your wrists further.
How to Decide on the Best Pair of Workout Gloves for Carpal Tunnel
Now that you know a little bit about the general concept of working out with carpal tunnel, it is time to get into all the details of what sort of gloves you actually need.
The type of glove or brace you need is technically a type of splint. Its main duty is to hold your wrist into a neutral position during activities. This helps to manage your carpal tunnel because it keeps your wrist from bending in extreme positions.
The stable position that a glove forces your wrist into keeps the carpal tunnel open, so your nerves are not pinched. A 2015 study from the Journal of Medicine and Life found that wearing a wrist splint greatly improved carpal tunnel outcomes (3).
In addition to holding your wrist in a stable, neutral position, your workout gloves also need to help you with your workout. Look for styles that provide cushioning around your palm, so heavy weights will not feel unpleasant, and check for gloves with enough grip to keep your hand from slipping on weights.
Other things to keep an eye out for when picking workout gloves include a style that fits your hand size, a material flexible enough to let you curl your fingers, and a longer finger length to protect from calluses. Make sure the wrists are not too tight, because putting pressure on your carpal tunnel is a bad idea.
Maintaining Your New Workout Gloves
No guide to picking the best workout gloves for carpal tunnel syndrome is complete without a quick mention of how to care for your new gloves.
Once you decide on a pair and start exercising with them, you will find that they tend to get a little sweaty and grimy. This can end up degrading the material if ignored for too long
After every workout, make sure your gloves are placed in an open area where they can dry completely. Every now and then, use warm water and soap to wash your gloves thoroughly. Let them air dry to make sure they retain their shape.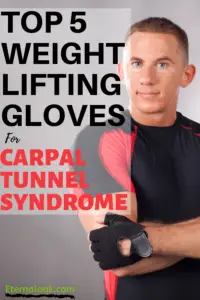 Sources
(1) https://www.stack.com/a/should-you-wear-weightlifting-gloves
(2) https://orthoinfo.aaos.org/en/diseases–conditions/carpal-tunnel-syndrome/
(3) https://www.ncbi.nlm.nih.gov/pmc/articles/PMC5319285/