If you want to make exercise fun, the right clothes can boost your mood and make you want to visit the gym. The funny workout tanks on our list are a fun way to brighten up your gym workout or give the athletic lady in your life a great gift.
Why You Need a Hilarious Workout Tank
Does what you wear really make a difference to your workout? We think it does, and there's some research to back up the idea that cuter clothes make you more likely to exercise.
According to 2012 research published in the Journal of Experimental Social Psychology, we go through a process called "enclothed cognition" when we put on clothes associated with a certain task (2).
When it comes to working out, this basically translates to mean that our brain go into athlete mode once we put on fitness clothes. If you're dressed like an athlete in a proper workout tank top, then you can focus more on your exercises.
A Victoria University study found that anyone who puts on workout clothes is more likely to end up participating in beneficial physical activity (3).
Of course any good workout tank will give you this benefit, but a funny tank top comes with even more advantages. Simply wearing a shirt that you find funny is enough to put you in a good mood that will result in a more effective workout.
It can also be a good way to meet people at the gym. Having a silly shirt on can give other gym goers the opportunity to start a conversation. After spending some time chatting with someone who loves your shirt, you might find that you have a new workout buddy!
What Materials Are Good for a Workout Tank?
The material a workout tank is made from will have a huge impact on its overall functionality. The right material can keep you cool while you exercise and avoid absorbing moisture.
On its own, cotton can be a bit too absorbent, resulting in a soggy, sweaty shirt, but since it is so lightweight and breathable, it works well in shirts that have a little cotton blended in.
Bamboo is becoming another popular natural material because it is soft, UV resistant, and wicks moisture away from your skin. Green Living editor Ruth Styles explains that bamboo fabric is also very green and environmentally friendly due to its production methods.
Synthetics like nylon are another popular option due to their ability to evaporate sweat away from your workout. Nylon is great for form fitting tanks because it is flexible but doesn't get stretched out.
Another material you frequently find in workout tanks is polyester. This fabric is wrinkle resistant, durable, and holds on to dyes through multiple washings.
For more details about how different materials affect your workout tank, check out this funny YouTube video.
How to Shop for the Perfect Workout Tank
No matter how much you love a slogan, you probably don't want to pick the tank top based on what it says alone. Here are a few other things you will need to consider too.
Fit
One of the most important things in a workout tank is fit. You need something that will not impede your workout, so overly tight or baggy clothes may get in your way. Typically, the sizing for a workout tank is the same as the sizing for regular tanks.
In addition to making sure the size of the tank matches your regular clothing size, take a look at the size chart. This will let you know what size to wear based on your measurements. It can come in handy when ordering from a brand with atypical sizing.
Appropriateness
In a perfect world we could wear whatever we want without having issues, but the reality is that some funny slogan tees can end up causing unnecessary drama. Just remember that some workout shirts with very raunchy or dark humor might get some complaints depending on where you exercise.
If you workout in a place with a lot of children, you may want to make sure the humor is age-friendly too.
Color
Not every lady works out in pristine, color coordinated gear, but we definitely like knowing that our workout clothes at least form a passable outfit. It might be a good idea to take a quick look at your shoes, leggings, and sports bras to see how the tank matches the other items.
Of course black, white, and grey tanks will match just about anything, but if you love bright colors, you still have plenty of options. The bright pinks, greens, blues, and yellows that most funny tank tops come in will coordinate well with other equally bright hues.
Special Features
Finally, check out any potential special features in a tank. Does it have a pouch to hold your phone or a glow in the dark patch for night running? Any handy features like this can make your workout experience even better.
Note: If you click some of the links in this article we may earn a small commission at no additional cost to you.
Our Five Best Hilarious Exercise Tank Tops
Comical Shirt "I'm Sorry for What I Said During Burpees" Workout Racerback
This cute racerback has a stylish gathered racerback design that shows off your shoulders. Its absolutely hilarious slogan on the front is ideal if you go to a Crossfit gym or other class known for its excessive amount of burpees.
Pros
Multiple colors to choose from, including pink, purple, blue, red, grey, black, and green, so it is possible to select a tank that matches existing workout items.

The fabric is lightweight without actually being sheer, so you can't see the outline of your bra and leggings underneath.

Comes in a huge range of sizes, from XS to 2 XL, so it is easy to find one that fits you.

The combination of polyester and cotton results in a soft fabric that won't chafe.
Cons
Sizing runs a little on the small side.

Cotton material may wrinkle a little.

Little Royaltee Fit-ish Tank Top
This shirt is a humorous take on the idea of being athletic without taking fitness too seriously. It reads "Fit (ish): semi-fit; kind of fit; someone who likes the idea of being fit but equally likes food." We like the sleek shape of this tank, and the elongated scoop neck is very flattering. You can order your normal size for a fitted look or get a size up for a comfortably oversized shape.
Pros
Funny slogan is great for people who want to get fit but still appreciate great meals.

Pick between grey, pink, blue, and white when ordering.

Comfortable material is soft without getting stretched out or pilling.

The narrow racerback emphasizes strong shoulders and lets the straps of a stylish sports bra peek out from underneath.
Cons
Not machine dryable.

No extra small sizes exist for very petite women.

Actizio Sweat Activated Tank Top
If you have a unique sense of humor, this is definitely a great shirt for you. When you first wear it, it looks like a simple grey tank top. However, as you start to workout and get sweaty, the darkened fabric will gradually begin to display the words "You can go home now." Its a fun blend of humor and motivation that is sure to get a few chuckles.
Pros
Combed and ring spun cotton creates a soft feel while the polyester fibers wick away moisture.

You can wash and dry it in the machine for ultimate convenience.

Comes in many sizes and is true to size.

The unusual sweat activated design lets everyone see how hard you're working out.
Cons
The only color to pick from is grey.

If you aren't a sweaty person, no one will be able to get the humorous message.

Tough Cookie's Women's Fine I'll Run Burnout Tank Top
This super soft burnout tank top says "Fine, I'll run, but I'm gonna complain the whole time" in big white letters. The muted pastels and neutrals used to make up the fabric of this shirt are a little different from the typical neon exercise colors, but they'll still match plenty of your leggings and shoes.
Pros
The blend of cotton and polyester results in a workout tank that is breathable, moisture wicking, and wrinkle resistant.

Curved fit flatters all sorts of body shapes.

The funny slogan is great if you are known for hating cardio.

Text is large enough to be read from far away.
Cons
Due to the textured burnout pattern, some spots on this tank top may look slightly transparent.

Only four sizes to choose from when picking your shirt.

Sizing is a little on the small side.

Funny Threadz " I Tried Running But I Kept Spilling My Wine" Tank Top
Love having a drink but plan on exercising to get rid of the beer belly? This funny tank top jokes about drying to run while balancing a glass of wine. In addition to the amusing slogan, we also like the shape of this take top. It flows lightly over your body without clinging anywhere or being so bulky that it gets in the way.
Pros
Lightweight, soft fabric is ideal for running, yoga, and other exercises that require flexibility and comfort.

You can get the same slogan on both heathered and solid tees in a variety of colors.

Delicate script font adds a visually appealing note to the simple text design.

A slightly curved hem and longer length makes this tank top look flattering with leggings.
Cons
You may need to size up to get the right fit.

The fabric is not very stretchy when you move around.
Our Favorite Pick
With all of the hilarious slogans on these cute workout tees, it is hard to pick one favorite out of the bunch! Ultimately, we like the racerback tee from Comical Shirt that says "I'm Sorry for What I Said During Burpees." It's sassy and cute without relying on gimmicks like sweat activation. The gathered shape along the back of the racerback looks more interesting than a plain tank top, and the shirt's material is soft and wrinkle free while keeping you cool and dry as you exercise. We also like that it comes in neutral, bright, dark, and pastel shades.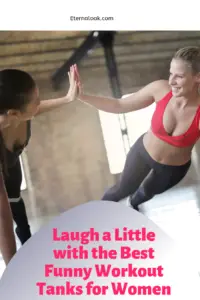 Sources
(1) https://theecologist.org/2011/jun/22/ask-ecologist-cotton-hemp-and-bamboo-which-green-choice
(2) https://www.sciencedirect.com/science/article/pii/S0022103112000200
(3) https://gearbunch.com/blogs/news/active-wear-the-benefit-of-wearing-special-workout-clothing