With all the choices on the market, finding the right mat for your bodyweight workout can be overwhelming. Instead of spending hours researching, all you need to do is check out this article and get a detailed overview of the best exercise mat options available.
Reasons to Go With Bodyweight Exercise Routines
You might be wondering whether or not you even really want to bother with equipment for a bodyweight workout. A lot of people have the idea that these styles of workouts are not as effective as lifting heavy weights or doing cardio. However, they can be surprisingly effective.
Compared to cardio, strength training can be more effective at building muscles. The U.S. Department of Health and Human Services recommends that people perform strength training at least twice a week because it helps to strengthen both bones and muscles (1). Building muscle ends up boosting your metabolism and helping you to lose weight while looking more toned.
If you want to look good in a swimsuit or fit into a pair of old jeans, you need to be doing strength training. Most people go straight to lifting barbells and dumbbells, but your body is actually a weight itself.
Just lifting and moving around your own weight can result in impressive results. You can greatly change your appearance simply by following a bodyweight routine.
400;">Bodyweight exercises are a great choice because they are so convenient. If you hate going to the gym but still want to be fit, than bodyweight exercises are definitely right for you. You can do them in your living room while you watch tv or exercise in your kitchen as you cook.
Doing bodyweight exercises lets you workout on your own schedule anywhere you want. You do not have to buy any fancy machines or find a place in your house to store a stack of weights.
Do You Really Need an Exercise Mat for Bodyweight Workouts?
Now that you know why you should be doing bodyweight exercises, it is time to get into the details about equipment. For most exercises, all you technically need is your own body.
However, you will quickly find that doing bodyweight routines without a mat puts a lot of stress on your body. Without a mat, you end up hurting your back after doing situps on a tile floor or bruising your knees while doing pushups.
Mats also help you to maintain proper form. They provide a textured surface to keep you from sliding around during exercises. This makes sure that you do not get injured while trying to perform bodyweight workouts.
Things to Look for in Bodyweight Exercise Mats
Will any old mat do when you want to get into bodyweight fitness? The reality is that some sorts of mats may harm your progress more than they help it.
A standard yoga mat is a little too thin for bodyweight exercises. These types of routines involve putting a lot of your weight on parts of the mat, so you need plenty of cushioning.
Those who are moving around a lot during their routines will benefit from exercise mats with special anti-slip coatings or textured backings.
Another thing to consider is the size of the mat. You need to be able to move freely instead of having to constantly reposition yourself on the mat. A standard yoga or pilates mat may be a little too narrow. Something wider and longer tends to work best.
If you are doing your workout correctly, you will probably end up sweating a little, so be sure to select a mat that can be easily cleaned. Something that does not absorb water will be easier to clean.
What Do You Do With a Bodyweight Mat?
Once you have your mat, the ways to use it are almost endless. Do you want a curvier bottom and flatter stomach? Try doing hip raises and hip thrusts on your mat. If your main goal is a tight core and broad shoulders, planks and pushups are very effective.
Some people like following set routines like Bret Contreras' Bodyweight Strength Training schedule. Others prefer to just cycle through a variety of their favorite exercises. Check out this great YouTube video to get an idea of whata basic bodyweight fitness routine looks like.
The main thing to keep in mind is that you need higher numbers of reps for a bodyweight routine. A 2015 study from the Journal of Strength and Conditioning Research found that around three sets of 25 to 35 reps is the most effective method for bodyweight exercising (2).
When using your mat, be sure to spread it out flat on an even surface. A slanted mat can result in over exercising half of the body, and a crooked mat can trip you up during an exercise.
Note: If you click some of the links in this article we may earn a small commission at no additional cost to you.
The Top 5 Mats for Bodyweight Exercises

With 1 ⅝" of bonded foam making up the inside of the mat, this is one of the thickest options on the best exercise mat list. You can do explosive exercises that involve a lot of jumping and leaping without putting excessive stress on your joints. The Everlast mat is a heavy duty item comparable to those found in gyms and fitness centers.
Pros
Mat folds in half to make it more compact for storage.

The outer shell is non-absorbent and water resistant.

Extra-thick foam provides maximum cushioning.

A sewn in handle on the side lets you transport the mat easily.

You get to choose between practical black or bright blue.
Cons
This mat is a little on the bulky side, making it difficult to transport.

Due to the sturdy outer coating, the mat may have a slight rubbery smell when it is still brand new.

Shell may slip a little on hardwood flooring.

BalanceFrom is mostly known for their yoga mats, but they do make an all-purpose exercise mat that deserves a spot on this best exercise mat list. The mat is made from half an inch of high density foam, so it cushions all your pressure points even on hard flooring. Both sides have an anti-slip coating to help prevent injuries, and since the coating is on both sides, you can easily flip the mat over whenever desired.
Pros
Multiple color options let you pick your favorite shade.

Moisture resistant technology makes the mat entirely washable.

The mat comes with straps for easy transport.

Slip resistant coating allows for safe exercising.

At 71 inches long, this mat is lengthy enough to accommodate tall exercisers.
Cons
Mat gets indents and marks if it is folded up for too long.

Tears may develop after rigorous wear.

Any gravel or grit on the floor may embed itself in the soft foam.

The HemingWeigh mat manages to combine thickness with practicality to create a mat that is easy to transport wherever you need to go. This mat stands out from others due to its special foam core that is sandwiched between layers of non-slip surface grips.
Pros
High quality foam does not dent easily, so the mat does not get stretched out by your exercises.

Thick coating along the surface of the mat prevents tearing and breakage.

At ⅝ inches thick, this is a little more cushioned than other rollable mats on the market.

Elastic loops let you easily roll up the mat and transport it.

The textured surfaces prevents the mat from sliding around when you use it.
Cons
Only one color to choose from.

The mat is an inch shorter and narrower than other rollable mats, so it might not work for taller people.

This extra large mat from Premium is big enough to turn an entire room into a home workout area. It has a special circle patterned bottom to provide extra gripping and reduce sliding. Thanks to the Gorilla Mat high density foam, you can even do vigorous bodyweight exercises while wearing shoes without damaging the mat.
Pros
Spacious mat provides plenty of room for bodyweight exercises that involve a lot of moving around.

Comes with storage straps for rolling up the mat in storage.

Non-toxic materials reduce off gassing or rubbery smells.

Anti-slip bottom ensures mat remains in its spot on the floor.

Multiple color options to match any room.

Shock absorbing materials cushion your joints while exercising.
Cons
Large size is too bulky for easy transport.

Not quite as thick as other exercise mats

Sivan has produced a mat that is truly soft and comfortable to use. Its stylish appearance makes it a great choice if you want your workout to be aesthetically pleasing, and the extra long length helps to accommodate people of all sizes.
Pros
A half inch thick foam cushions you when standing, kneeling, sitting, or laying on the mat.

The foam material is easy to clean after intense workouts.

The many colorful options lets you select a shade that matches your personality.

A ribbed surface keeps the mat from slipping on smooth surfaces.

The detachable shoulder strap lets you workout at gyms, at home, or in nature.
Cons
The mat can squeak a little, which might be awkward during quiet grup classes.

The mat can smell a little chemical-like when you first unroll it.

You might find it hard to balance in yoga-style poses due to the mat's squishiness.
Summing It All Up
When choosing the best bodyweight exercise mat, you need to carefully consider your needs. People who plan on exercising in many places might prefer a rollable mat while those who want an extra wide workout area might want a wider and thicker mat. All of the above products are great choices, but ultimately, the Gorilla Mat option seems like the clear winner of all these products. This versatile mat is a little thicker than other options, so you can do vigorous exercises comfortably. Its impressively large size and durable coatings lets you create a wide exercise area that can be used for years.
Please share this pin!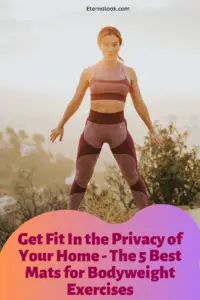 Sources
(1) https://health.gov/paguidelines/guidelines/summary.aspx
(2) https://www.ncbi.nlm.nih.gov/pubmed/25853914