If you want to get toned and shed extra pounds without lengthy trips to the gym, you need a set of dumbbells for home workouts. We'll help you to pick out the best weights for at home exercising by giving you detailed reviews on a few great options.
Can Dumbbells Provide the Same Results as Weight Machines?
If you're new to fitness, we know that the idea of a dumbbell weighted home exercise can sound a little challenging.
You might think it's easier to use one of those weight machines that guides you through exercises, but the reality is that machines tend to provide less effective results.
We've definitely heard bodybuilders mention that free weights are better than machines before, and it turns out that research supports that idea. 
A study from the 2016 issue of Journal of Human Kinetics found that people who use dumbbells get strong faster because they have to balance and stabilize themselves instead of letting a machine do all the work for them (1). In fact, we have an entire exercise program using dumbbells to get stronger if you're over 50.
We also find that dumbbells can get better results than a weight machine because you have a higher chance of actually using them.
You might be tempted to skip a workout when you have to get dressed and drive to the gym, but when you can just add in a few exercises at home while you watch your favorite tv show, you're more likely to really get things done.
Getting the Best Results From Home Dumbbell Workouts
If you plan on working out at home with dumbbells, you can do a few things to increase your results.
First of all, make sure your nutrition is important. Your body needs protein to actually build muscle following your workouts. The official dietary recommended intake is 56 grams a day for a man or 46 grams per day for a woman (3).
It is also important to make sure you have the right form. Take it slow and keep your movements controlled as you workout to avoid accidentally injuring yourself.
We know it can sound a little intimidating, but it is also a good idea to come up with a workout routine. You can results by just doing basic squats and bicep curls every now and then, but an actual workout plan will have an even better outcome.
Fortunately, the internet is filled with helpful guides and suggestions for DIY workouts. There are all sorts of great YouTube videos, like this fun one from GymRa, that walk you through each part of a simple home workout with dumbbells.
If you do all these things, you will notice that your strength is gradually improving! When this happens, make sure you keep on increasing your weights.
Gradually progressing in weight size will help you to keep progressing with your workout goals instead of getting stuck at the same level.
The Features You Need in Your Set of Dumbbells
We've got a few tips that will help you to find your ideal dumbbell set! Of course the first thing you need to look for with dumbbell sets is size.
Trainer Ben Booker recommends that beginners start with weights ranging from five to 20 pounds (2). If you manage to get ripped with these, you can always go to heavier weights later on!
The types of weights included in a set isn't the only thing you need to look out for. Be sure to make sure the handles are comfortable. A smaller handle works best for light weights while heavier weights need a wider handle.
Since you'll be working out at home, it may be a good idea to get rubber encased dumbbells if you have a wood floor. This will minimize damage on your hardwood.
How to Choose Between Adjustable and Fixed Weight Dumbbells
Dumbbells come in two basic designs, and both of these options can be great. You just have to figure out what is right for you.
Adjustable weights let you put weighted plates on a dumbbell bar to get the weight you want. This can be useful if you are tight on storage space or need to exercise with non traditional weights.
However, some find that fixed weight dumbbells are more convenient and simple. You know how much it will weigh every time you pick it up, and you don't have to mess around with switching out weights.
Another thing to keep in mind is that it can be tricky to do exercises that require you to balance a dumbbell on its end if you have adjustable weights. We've tried things like a seated shoulder press with adjustable weights, and the pointy end digs into your thigh!
Both of these choices work the same for exercises, so you can just pick whichever one seems more convenient for you.
Note: If you click some of the links in this article we may earn a small commission at no additional cost to you.
The Top Five Dumbbell Sets for Home Workouts
These are definitely a higher-end set of dumbbells, but you can't beat this convenience! These adjustable dumbbells from BowFlex don't require you to spend all your time screwing on weight plates or juggling several different dumbbells. With a simple twist of the dial on the end, you can adjust these dumbbells to weight anywhere from 5 pounds to 52.5 pounds.
Pros
Comes with an app that lets you schedule and track your workouts.

The molding around the metal plates helps you to workout without making a lot of noise.

This space efficient set does not require you to have a lot of storage space.

The dial turning system means you don't have to bother with adding up weights and figuring out total weight yourself.
Cons
A little on the pricier side.

You have to go up or down by five pounds every time you want to change weights after reaching 25 pounds.

Lately Amazon has been making durable and affordable basic items themselves, and we love the hex dumbbells from AmazonBasics. With a sturdy hexagonal, rubber coated end, these dumbbells are nice and stable if you want to put them on the floor for things like renegade rows. These weights are excellent if you just want a simple, no-frills weight set.
Pros
A contoured and textured chrome handle gives you a comfortable grip on the weights.

A nice range of weights between 10 to 50 pounds works well for people at all fitness levels.

The solid cast iron core is very sturdy

Rubber coating protects your floors while you workout.

Just get the weights you need since each weight is sold separately.
Cons
You don't get a set when you order any dumbbell size.

The rubber used to coat the outside can smell a little odd for the first few weeks.

The reason we like the neoprene dumbbell sets from J/fit is that they let you choose how heavy a set you want to get. Each set comes with three pairs of dumbbells, and you can choose sets with a combined weight as low as 18 pounds or as high as 74 pounds. This great option lets you pick a small set for lightly weighted cardio exercises or a heavy set for at home weightlifting workouts.
Pros
The stand that it comes with keeps you from ending up with weights tossed all over the place after your exercise.

The double coated Neoprene does not easily flake or chip.

Made from solid iron, these are very sturdy weights.

Brightly colored coatings let you quickly identify which weight is which, and we think they make the workout more fun!
Cons
The thicker handle can be tricky to grip if you have small hands.

The stand is a little flimsy to be holding the heavier weight sets.

This is a great option if you want a no-frills set for at home lifting. CAP gives you pairs of dumbbells in 5, 10, 15, 20, and 25 pound increments. It comes with a nice rack that helps you to store all your weights and keep your home gym tidy.
Pros
Hex shape keeps the weights stable on the floor.

The big range in weight sizes makes these work for both light and intense exercises.

The solid cast iron construction results in nicely durable weights.

A flat end on the weights lets them work for exercises where you balance the weight on your body.

The painted coating keeps the cast iron from rusting.
Cons
The numbers stamped on the ends tend to be a little blurry looking.

The handles don't have much of an anti-slip grip on them.

Yes4All does an excellent job of producing a standard adjustable weight dumbbell set. We like that switching the weights is fairly intuitive. All have to do is slide on your desired weight and spin the star shaped collar to secure it. Depending on which set you get, the total weight of these will be anywhere between 40 and 200 pounds.
Pros
Very affordable compared to other higher weight options.

Weighted plates ranging from 3 to 70 pounds let you customize your dumbbells to the perfect weight.

The diamond knurled chrome handle is very secure and does not slip.

These compact weights do not take up too much space in your home.

Rubber gaskets around the locks on the end keep weights from slipping or shifting.
Cons
It can take a little extra time to adjust the amount of weight on the dumbbells.

Chrome grips may feel a little rough at first.

No smaller sizes for people new to weightlifting.
Our Favorite Option
All of these choices do the same basic job of letting you build muscle and drop weight in the comfort of your own home. If we had to pick a single favorite, it would be the Bowflex adjustable dumbbells.
The price might seem intimidating at first, but it still comes out to be cheaper than other dumbbell sets when you consider how many different weights you can create by adjusting the dumbbells. The easy dial system lets you quickly switch up weights without interrupting your workout, and when you're done, you can store them in any tiny space.
Please. Share this pin!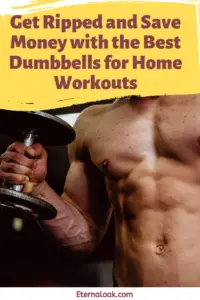 Sources
(1) https://www.ncbi.nlm.nih.gov/pmc/articles/PMC5260589/ 
(2) https://dailyburn.com/life/fitness/how-to-build-muscle-fast-pick-weights/
(3) https://www.healthline.com/nutrition/how-much-protein-per-day