If you are even slightly interested in losing weight and avoiding the health problems that come with old age, you've probably heard of the Mediterranean diet. This list of great Mediterranean diet cookbooks will make it easy for you to find tasty and healthy recipes!
What Is the Mediterranean Diet Anyways?
It can honestly be a little confusing to figure out whether the average cookbook actually fits within the Mediterranean diet or not, so let's start by clearing up any misconceptions.
You can find countless cookbooks that contain traditional Mediterranean foods, but keep in mind that not every single one will follow the official Mediterranean diet.
According to the Mayo Clinic, the Mediterranean diet isn't a traditional diet that makes you severely restrict your portions or do lots of complicated macronutrient calculations. Instead, all you have to do is work on changing your diet to make it match the traditional foods of the Mediterranean region (1).
This includes eating plenty of fruits, vegetables, and whole grains, have legumes and nuts every day, using olive oil instead of saturated fats, limit red meat to once per week, increasing fish intake to twice a week, having red wine in moderation, and using herbs instead of salt for flavoring.
Reasons to Start Using Mediterranean Recipes
The Mediterranean diet definitely sounds delicious but will it actually help you to stay healthy? We've found quite a bit of evidence to support this idea.
A 2018 study published in the New England Journal of Medicine followed over 7,000 participants for five years. They found that the main benefit of the diet was heart health. People eating a Mediterranean diet has a 30 percent lower risk of heart problems compared to people on a low fat diet (2).
Most people are told to try out the Mediterranean diet because it is so heart healthy, but it's interesting to see that it can also help with weight loss. 2004 research by Dr. Katherine Esposito discovered that people following the diet lost 6 pounds more on average than those following other diets (3).
You can get some of these health benefits from other types of diets, but one of the main reasons that we love the Mediterranean diet is that it is so easy to follow. Just a few little changes to your eating habits let you improve your health without limiting your eating choices.
How to Stay Healthy While Following Mediterranean Cookbooks
An essential part of getting healthy with the Mediterranean diet is learning to eat balanced meals on your own. You don't have to eat specific meals at specific times or meet a set caloric requirement. Instead, planning your meals is left up to you.
This makes the diet more convenient and flexible, but it also means that you have to take a few steps to make sure the diet actually makes a difference in your life.
In many Mediterranean cookbooks, you will find tasty meals made with seafood, dairy, and meat. These are fine in moderation, but you need to remember to limit your intake of these categories to just a couple times per week.
Another helpful tip for using Mediterranean cookbooks is to pick recipes that use a variety of vegetables and grains. Just eating starchy things like carrots and rice is technically Mediterranean, but it won't give you as good results as eating a flavorful blend of cucumbers, spinach, tomatoes, kale, barley, oats, and other nutrient- rich vegetables and grains.
What Should You Look For in a Mediterranean Diet Cookbook?
Any style of Mediterranean cookbook will have dishes that work on the Mediterranean diet, but not all cookbooks are equal. There are a few key things to keep an eye out for when shopping for Mediterranean cookbooks.
First of all, you need something authentically Mediterranean. Find options with traditional Egyptian, Turkish, Greek, Italian, Spanish, and Provencal cooking. An American-Italian book filled with lasagna recipes might be tasty, but it isn't exactly healthy!
Cookbooks that work with the Mediterranean diet should be filled with traditional Mediterranean meals loaded with olive oil, vegetables, beans, fruits, seeds, nuts, and whole grains. Great options may include some details about the Mediterranean diet guidelines that make it easier for you to eat right.
You also want a cookbook that is easy to understand. It can be helpful to have indexes that let you easily look up recipes based on ingredients. Your cookbook needs to have clear, easy to understand recipes that clearly show you each step in the recipe.
Of course it's possible to follow a cookbook with no pictures, but we tend to prefer options with great photography. Having beautiful photos makes any cookbook more enjoyable, and it can also help you to figure out what meal you are in the mood for.
Finally, it is best to pick comprehensive cookbooks that cover many types of food. Since getting used to planning meals without meat can be tricky, we find it a little easier to use books that provide complete meal plans instead of focusing on just entrees, sides, breakfasts, or desserts.
Note: If you click some of the links in this article we may earn a small commission at no additional cost to you.
Our Five Top Choices for Mediterranean Cookbooks
Does the perfect Mediterranean diet cookbook exist? Our answer is definitely yes. Here's some helpful overviews about our favorite choices.

This cookbook makes its way to our list because it contains such a great blend of recipes. Instead of just doing standard Grecian meals, it has a blend of authentic recipes from Provence, northern Africa, Italy, Sicily, and the Middle East.
Pros
Informational paragraphs at the beginning of each recipe help you to learn what these unfamiliar recipes actually are.

The authors include helpful tips for things like removing frittatas from a pain without breaking them, so new cooks will not be intimidated.

A convenient index by location lets you decide which culture you want to pick your meal from.

Educational sections on common Mediterranean foods help you to learn new things as you cook.
Cons
It may be difficult to get some of the ingredients at your local supermarket.

Salt levels are a little high if you want to follow a heart-healthy Mediterranean diet.

No details about the Mediterranean diet mean it is not ideal for those new to the diet.

Published by a Californian company known for their authoritative health books, this cookbook is perfect for those just starting out. Its thoughtful information about how the diet works and what the benefits of the diet are will help to walk you through the transition from a Western diet to a Mediterranean one. Many of the recipes fit in the Mediterranean diet without tasting noticeably foreign, so it is great for picky eaters.
Pros
All the recipes are low in sugar, carbs, and meats, making it easy to lose weight.

A wine pairing for each of the dinner recipes helps you to craft the perfect meal.

With over 150 recipes, this book is packed with new eating ideas.

Very affordable, so it is not a big investment for people new to the diet.

Most of the ingredients are easy to find.
Cons
A lack of pictures makes this less entertaining to read.

The recipes do not have nutritional information included for each meal.

Dr. Michael Ozner is a top cardiologist, so you can expect to get plenty of health and fitness information in this book. The first portion of the book covers plenty of information about the Mediterranean diet, and then it goes on to give you recipes for every type of meal you might need.
Pros
A 14 day plan at the beginning of the book is an easy starting point if you are unfamiliar with the Mediterranean diet.

There is a quick cooking guide that helps you to figure out any terminology you might be unfamiliar with.

500 different recipes give you many options to choose from.

Each recipe has nutritional information at the bottom to help you track what you eat.

There are plenty of vegan options available in the recipes.
Cons
There are not pictures for the majority of the recipes.

Since each recipe is not numbered, following it may be slightly difficult.

Many dessert recipes have low-calorie sweeteners which are not used by some on the Mediterranean diet.

We've had good results from America's Test Kitchen in the past because they provide detailed recipes that are easy to understand, and this cookbook lives up to their standards. With over 500 recipes, you can cook from it for over a year without running out of new things to try.
Pros
The cookbook looks at meals from all Mediterranean regions, including Morocco, Turkey, and Lebanon, making it exciting and innovative.

Many recipes come with variations, so you can switch up the seasonings to match your tastes.

Clear pictures show just what it should look like when you're done.

A "Why this recipe works" section at the beginning teaches you a little about cooking and shows how the recipe was developed.

Nutritional information for each recipe lets you count calories and macronutrients if desired.

The cookbook is divided into chapters for beans, grains, fruits, seafood, and all other basic categories you need to eat on the diet.
Cons
The text is a little small, so some people with eye problems may struggle to read it.

Mediterranean diet guidelines are not included in the book.

As an acclaimed chef of Grecian descent, Michael Psilakis is an ideal choice for learning how to cook Mediterranean food. One of the best things about this book is how simple he makes cooking Mediterranean meals. He starts by teaching you basic techniques for seven dishes, and then you learn how to incorporate these seven items into meals.
Pros
The cookbook has lots of tips for making things ahead, so even people too busy to cook every day can use the recipes.

Instructions include tips on how to prepare and chop vegetables, fruits, and meats for cooking.

Beautiful pictures get you excited for the meals before you eat them.

Options for substitutions give you more variety
Cons
Some recipes are higher in dairy than a typical Mediterranean diet meal should have.

There is only a little nutritional information included throughout the book.

Most of the recipes cannot be made unless you know how to make the seven basic recipes at the beginning of the book.
Our Top Pick
While all of the cookbooks on are list are helpful, informative, and easy to use, one definitely stands out from the rest. The Complete Mediterranean Cookbook by America's Test Kitchen might not have specific instructions for following a Mediterranean diet like some of our other options, but each recipe in it is compatible with this method of healthy eating.
With plenty of tips and clear instructions, even complicated dishes can be made by a novice cook. The bright pictures and huge range of recipes in The Complete Mediterranean Cookbook make it a joy to cook each meal.
Pin it to share the love!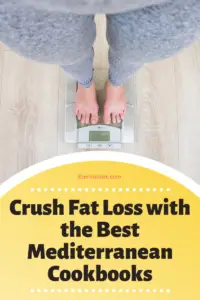 Sources
(1) https://www.mayoclinic.org/healthy-lifestyle/nutrition-and-healthy-eating/in-depth/mediterranean-diet/art-20047801
(2) https://www.cardiosmart.org/News-and-Events/2018/07/Study-Confirms-the-Heart-Health-Benefits-of-a-Mediterranean-Diet
(3) https://jamanetwork.com/journals/jama/fullarticle/199488