Have you tried to drag yourself to the workout room, only to find that you can't get enough of an incentive to stick to your goals? 
You might find you're enthusiastic at first, but at the first sign of fatigued muscles you bolt out of there! 
The Gym Pact app can get you to spend more time in the gym by actually paying you to exercise!
Can I get Paid to Work Out?
An Iowa State University study found that people who belong to a gym exercise more than those who try to do everything at home (1). Health club memberships can be expensive, though, so it'd be nice to find a way to make some money along the way. 
Gym Pact, which in turn became Pact, is an app that promises to actually pay you each time you meet certain fitness goals. 
You can then put this money toward your membership or any of the various purchases you need to keep your workout going. 
Math gurus have claimed that well over half of all people join a gym to get motivated in the first place (2). Some cash should help to motivate you all the more!
What's the Story About Gym Pact?
Gym Pact used a form of self-gambling to encourage people to meet their fitness goals. The original app actually rebranded itself as Pact, which also helped to ensure people met certain diet goals as well as those having to do directly with fitness. 
Unfortunately, the app ended up owing workout warriors just like you over $1 million (3). It'd be nice if you got paid that for working out, but there's been some problems over it.
Does it Still Exist?
That's a very difficult question to answer. The official Pact Reddit threads are closed down, though you can still download the app itself. 
It doesn't seem like they're actively paying users to exercise, however, which sort of defeats the purpose. 
Once in a while, you still hear stories of people who experience success with the app but it seems that it's not really what it used to be. Many reviews of it now focus on the fact that it doesn't pay it out like it used to.
Gym Pact Review
Pros:
Easy to use

Free to download and install

Works with your current gym membership

Integrates with many fitness wearables

Should fit into nearly anyone's fitness routine no matter their personal level
Cons:
A few people have cheated the system by pretending to work out even when they're not

Some users report problems getting it to recognize certain devices

May no longer be paying users

Developers don't seem to be releasing updates for it any longer

Could owe faithful exercisers a ton of money
YouTube Reviews of Gym Pact
APP Review Gym Pact

: Digital-Reve takes a look at whether or not you can use Gym Pact to really get motivated to get to the gym regularly
Fitness Review

: Work-at-Home guru finds out just how much workout warrior can earn with the app
How it Works

: A brief explanation of how the GymPact app distributes money from an international perspective
Reddit Threads on Gym Pact
How Does the Pact App Work?
At the beginning of the week, you can set your diet and exercise goals. You'll be able to adjust your fitness level at any time. Once you've done this, you essentially bet on whether or not you're going to reach these goals. 
Say you wager $10 on the outcome of a single week of exercise.
If you reach or exceed your goals and they're not so low that anyone could beat them, then the app will reward you with that money. 
Those who aren't able to do so would have money taken away to fund those who do. In recent years, the money supply seems to have dried up in spite of the fact that the Google Play store still features the app (4).
This might be a good thing, though, if they ran out of cash because everyone was constantly meeting their goals in the gym all the time!
Are there Other Ways to Make Money Working Out?
There are countless other ways to make money working out, and some of them are way more lucrative than even the original GymPact app. 
Just like everything in the fitness world, though, you're going to have to go through some pain if you want to see real results.
Some people have had success posting videos of their workouts on social video sites like YouTube, and they're then paid according to how many views they get. 
While this can take a while, the money eventually starts to come in if you're popular enough. This is a great option for those who want to eventually become instructors.
Others have found more creative ways to profit off their exercise routine. You might consider leading a fitness boot camp or applying for a personal trainer gig, which often comes with its own gym membership. 
A few people who are serious about getting a workout have transitioned into a more strenuous job and ended up in warehouses and the like.
Be careful with this route, though. One Swedish study claimed that occupational stress can actually lead to weight gain (5)!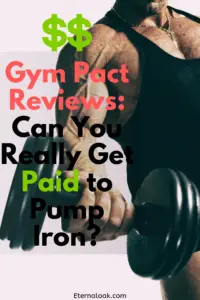 Sources
1 – https://www.sciencedaily.com/releases/2017/01/170123111536.htm
2 – https://www.statisticbrain.com/gym-membership-statistics/
3 – https://gizmodo.com/app-that-paid-users-to-exercise-owes-nearly-1-million-1818632078
4 – https://play.google.com/store/apps/details?id=com.gympact.android&hl=en
5 – https://link.springer.com/article/10.1007/s00420-018-1392-6