Have you been noticing how you really can't go anyplace these days without seeing or hearing about the keto diet? Even celebrities seem to be jumping on the keto bandwagon, like Halle Berry and Kourtney Kardashian. And, there's one major key to succeeding on this type of diet and that is the best tasting Stevia for keto.
Choosing the Best Tasting Stevia for Keto
Many individuals just like you start on a keto diet because their sugar and carb addiction has led them to a not-so-happy place. The fact is though that you really don't have to totally give up the sweetener in your morning cup of coffee or your love for desserts.
There are a number of sweet ways available for substituting something better for all of that sugar, only without the calories, carbs, and other negative effects. If you're starting on a ketogenic diet and are searching for a healthier sugar substitute, then we have some tried and true recommendations for you.
What Are the Benefits of Using Stevia?
Sugar is, of course, one of the most popular sweeteners in the world, however, it has been linked to a wide range of health conditions that are quite negative, like weight gain. It's well-known for having extremely high-calorie content and containing little or no essential nutrients.
In addition, high sugar consumption has been long associated with insulin resistance, which is a metabolic condition that can lead to diabetes.
Stevia differs from sugar in numerous ways, which make it a superior option for individuals with diabetes and those who are suffering from other metabolic syndromes. A number of other common artificial sweeteners are available on the market today, like Splenda, aspartame, and sucralose.
They are technically low GI products as well as being fairly low in calories. However, keto dieters are encouraged to approach them with caution. In many individuals, those sweeteners can have an adverse effect on your blood sugar while also leading to more cravings, and even disrupting your hormone levels and the overall ketosis process.
Therefore, it's best to avoid them altogether if you're embarking on a ketogenic diet.
The sweeteners that can be used on a keto diet fall into one of two categories and they are artificial and natura1. Of course, natural is always preferred and the fact is that Stevia is one of the most popular natural sweeteners for a number of valid reasons, including:
It comes from a plant called Stevia rebaudiana.

It's 100 to 300 times as sweet as sugar.

The active compounds in Stevia are called steviol glycosides.

Those compounds are both heat and pH-stable, so they can be used for baking or even for sweetening hot beverages like tea or coffee.

Stevia does not contain any carbs or calories.

Stevia has a Zero glycemic index and won't raise your blood sugar.

After 200 Stevia studies, the general consensus is that Stevia is completely safe for human use. In fact, it is generally recognized as safe (GRAS) by the US Food and Drug Administration. [1.]
Things to Look for in a Stevia Product
Low Glycemic Index (GI)
This is a reference to the amount that any food will raise your blood sugar. It goes from 0 to 100. Zero means absolutely no rise in insulin levels and blood sugar. On a ketogenic diet, your goal is, of course, remaining in ketosis. Therefore, staying as close as you possibly can to a zero GI is the best choice in sweeteners.
Sugar-Free
It's fairly obvious that it's an absolute necessity to avoid any added sugar on a keto diet. You're training your body to start burning fat for fuel rather than carbs. That's why your carb intake needs to stay extremely low. So, needless to say, it makes perfect sense to avoid anything with added sugar.
All-Natural
When you're on a keto diet, sticking with natural alternatives will allow you to be enjoying a treat here and there but not worry about the impact of sugar on your diet plan. Thank goodness the top five best tasting Stevia for keto sweeteners are an excellent option for doing just that.
What's the Best Way to Use Stevia?
Food scientists are continuing the exploration of the many ways for using stevia-based sweeteners. Some proposed uses include canned fruits, jellies and jams as well as soft drinks, desserts, ice cream, and even alcoholic beverages. You may find it most useful as a coffee or tea sweetener and a baking ingredient.
Precautions for Using Stevia
Some individuals who are taking stevia may experience nausea or bloating. In addition, some others have reported feelings of muscle pain, dizziness or numbness. Among the other warnings and special precautions are to avoid Stevia use if pregnant or breastfeeding due to the lack of medical evidence. And, since Stevia is a member of a plant family that includes ragweed, any individuals who may be ragweed-sensitive could be sensitive to Stevia. [2.]
Note: If you click some of the links in this article we may earn a small commission at no additional cost to you.
Top 5 Best Tasting Stevia for Keto
Stevia is part of the sunflower family and is a highly sustainable plant. It's known for being native to South America, where it's been harvested for many hundreds of years. Now, Stevia plants are flourishing worldwide and there are actually 250 species. Each one has its own unique flavors and traits and Stevia sweetening products are marketed under a number of well-known brands.
So, let's get started with a description of what the top 5 best tasting Stevia for keto offerings have in common and how they follow keto guidelines.
This is actually one of the better-known Stevia sugar substitutes on the market today.
Pros
Truvia is a sugar substitute with zero calories.

Truvia is a very popular sweetener.

Truvia's clean, sweet flavor is all-natural.

It's manufactured using Stevia leaf extract and Erythritol with other natural flavors.

Truvia is gluten-free, Non-GMO, Kosher, sugar-free, and can also be used by individuals with diabetes.

One packet of Truvia gives you the same amount of sweetness as two teaspoons of sugar.

Truvia can be used in everything from tea to coffee, cereal, fruit, yogurt, and favorite recipes.

Truvia stevia leaf extract is very high-purity and derived from the best-tasting parts of the stevia leaves.
Cons
Truvia contains Erythritol, which is considered OK for individuals on a keto diet but some consumers prefer pure Stevia with no additives.

Truvia also contains "other natural flavors" and some consumers may be confused by that terminology.

Truvia may be less affordable than some other lesser-known brands of Stevia-based sweeteners.
Stevia in the Raw is part of the well-known popular "In The Raw(TM)" family that can be found in most supermarkets.
Pros
Stevia in the Raw is a zero-calorie sweetener.

It's a 100 percent natural sweetener.

Stevia In The Raw is derived from the Stevia plant that's grown worldwide and has been used for more than 400 years.

It's deliciously sweet and calorie-free.

It contains no artificial ingredients, colors, or preservatives of any kind.

Stevia in the Raw is both sugar and alcohol-free.

It can be used for all kinds of baking, putting on top of cereal or fruit, or in your tea and coffee.

It dissolves well in both hot and cold beverages, like iced or hot tea, and iced or hot coffee.
Cons
The ingredients in Stevia in the Raw are dextrose and stevia extract.

Some consumers prefer not to consume dextrose because it is a form of glucose.
NatriSweet is a 100 percent pure Stevia sugar substitute with no additives.
Pros
It has zero calories.

It's all-natural.

It contains no carbohydrates.

It also contains no artificial flavors.

It's also free of eggs, gluten, milk, shellfish. soy, and wheat.

NatriSweet is both highly concentrated and pure.

NatriSweet contains 90 percent steviosides, which are responsible for giving Stevia its sweet taste without any bitterness.

It contains absolutely no Erythritol, Maltodextrin, vegetable fiber, natural flavors, binders, fillers, or artificial ingredients

NatriSweet is also vegetarian-friendly.

It's an all-natural alternative to chemical-based artificial sweetener products and refined sugars.

It can be used for sweetening all kinds of recipes, beverages, baked goods, dressings, marinades, and sauces as well as main dishes.

It carries a no-questions-asked 100 percent guarantee.

NatriSweet is available in powder and liquid extract forms and flavors that include caramel and toffee.
Cons
Not as well-known as some other stevia sweeteners so it might not be as easy to find.

Some consumers felt that NatriSweet had a strong aftertaste.

Although it's tested and packaged in the U.S., it's sourced from China.
SweetLeaf Stevia is one of the Stevia sweeteners that's available in both powder and liquid form.
Pros
It's also available in a variety pack of five popular flavors, including caramel, chocolate, coconut, and vanilla.

It's all-natural.

It contains no carbohydrates.

SweetLeaf is Kosher certified.

It tastes delicious and can be added to any foods and beverages.

It's also stable for heating and freezing.

It's hot water soluble.

It contains Inulin Fiber (F.O.S.), which is a nutritional supplement and a prebiotic.

It can also be helpful for individuals on a keto diet that have pre-diabetes.

Inulin has health benefits and is often utilized as a prebiotic agent in foods.

It's easily incorporated into baked goods, dairy products, drinks.

Sweetleaf is made in the United States in Gilbert, AZ.
Cons
The ingredient list shows Inulin soluble fiber first and Stevia leaf extract second.

Not suitable for consumers who want an absolutely 100 percent Stevia leaf product.
Whether you want to bake up a batch of cookies brew some sweet tea, or just enjoy your morning cup of joe, Pyure is so sweet and tasty that you just might end up forgetting that sugar was ever your go-to option.
Pros
It's USDA Organic certified by Organic Certifiers

It's Non-GMO

Pyure contains zero calories.

It also has zero sugar

It's a zero glycemic index product.

It's also a Kosher product.

It's made from high-quality organic Stevia

Pyure is perfectly sweet with no bitterness or aftertaste because it is made from only the sweetest portions of the leaf.

It even feels like sugar.

One cup of Pyure = two cups of sugar

One teaspoon of Pyure = two teaspoons of sugar
Cons
Bad aftertaste according to some consumers

Can cause headaches

Contains more Erythritol than Stevia
Our Top Best Tasting Stevia for Keto Choice
Since starting on a keto diet, we've been implementing the ketogenic lifestyle and transitioning to a low-calorie/high-fat(LCHF) plan, we've tried a number of alternative sugar-free sweeteners. To date, SweetLeaf Natural Stevia Sweetener has proven to be our first choice.
The other ingredient (besides Stevia) in Sweetleaf is inulin. According to WebMD, inulin can be used for controlling high blood fats, including triglycerides and cholesterol. It is often used as a food additive for improving taste as well as for constipation, and weight loss. It is also useful for increasing the amounts of calcium and other minerals absorbed from food as well as supporting a healthy immune system.[3.]
So, with SweetLeaf Natural Stevia Sweetener, you could be getting some considerable health benefits along with your sweetener. Here's to a sweeter and healthier lifestyle!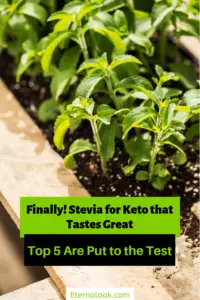 Sources
[1.] https://www.ncbi.nlm.nih.gov/pmc/articles/PMC4890837/
[2.] https://www.webmd.com/vitamins/ai/ingredientmono-682/stevia
[3.] https://www.webmd.com/vitamins-and-supplements/inulin-uses-and-risks