The best training shoes for women can help you to elevate your fitness routine. This may aid you in losing weight and working toward greater well-being. It is important to choose the right shoes for the most benefit. Learning more about some of the best options and how to evaluate them ensures that you make the right choice.
Before buying cross training shoes, it is important to know what to look for in your shoes. This helps you to properly evaluate each shoe so that you pick the right pair.
Shoe Anatomy
There are several parts of a shoe that you want to know about.
The upper is everything that sits on the sole. Look for an upper that will not cause chafing or binding. It should work with the shape of your foot.

The ankle collar keeps your heel in place. This component should keep your heel in the shoe without irritating your Achilles tendon. The heel counter supports and cradles your heel. This component should allow for comfortable ankle motion.

The saddle of the shoe is around the instep. It should hold your foot. This component should provide natural doming as you walk or run without slippage.

The toe box is at the front of your shoe. This part needs to allow for flexibility and for your toes to spread. It should not rub or bind your toes.

The outsole is typically made from foam or rubber compounds. This shoe component should not be stiff because this could inhibit the flexibility of your feet as you move. It should provide underfoot stability and traction.

The midsole is between the upper and the outsole. You want a midsole that is not too firm or soft. It should be comfortable on your foot. The heel cushioning works with the midsole of a shoe. You want to find an equal balance of stability, cushioning and ground feel. The forefoot cushioning should be able to sufficiently absorb shock when your forefoot strikes the ground. The push-off platform should be firm while the cushioning is comfortable.
Many cross-training shoes come with a sock liner. This is a foam pad that you can usually remove from the shoe. This liner should provide comfort and extra support for your arch. You can usually replace this liner if you have one that you like better than the one that comes with the shoe.
Features You Need
When you are looking for the best cross training shoes, there are a few features you want to make sure that you have. The shoe should offer a solid balance between support and flexibility. You want to be able to move your feet freely without experiencing instability.
The materials should be breathable so that your foot is comfortable throughout your workout. If your shoes become too sweaty and are frequently damp, this can lead to microorganisms growing in your shoes, according to Dr. Melissa Peck Piliang. (1) When your shoes can breathe, this can help to promote dryness.
Your lacing system should allow you to tighten your shoes to conform to your foot. Just make sure that your shoes are not too tight because this does not allow for natural swelling during your workouts.
Your weight should distribute evenly in your shoes. They should be stable and allow your toes to spread for optimal balance. Excellent support for your heels and arches is also imperative to allow you to move freely. This is especially important for cross training shoes that you will use for multiple activities.
Evaluate Your Foot
It is important to measure and evaluate your feet every time you buy shoes. Over time, it is possible for your foot shape and size to change, according to the American Orthopaedic Foot and Ankle Society. (2)
As you age, the ligaments and tendons in your feet may either loosen or tighten. This can result in your feet becoming wide and longer, as well as different foot deformities, such as hammertoes and bunions, according to the Cleveland Clinic. (3)
Always measure both of your feet. It is not uncommon for both of your feet to differ slightly in size. The shoes you get should be fit to the larger foot.
Shop at the Right Time
There are right and wrong times to shop for shoes. When you are trying shoes on, it is best to go to the store in the afternoon. This is when your feet naturally expand due to moving around all throughout the morning, according to Harvard Health Publishing. (4)
It is a good idea to bring the socks you wear to workout with you so that you can try shoes on while you are wearing them. This helps to ensure a comfortable fit.
If you wear an orthotic when you are working out, you will also need to bring this with you when you are shoe shopping. It is important that you can fit the orthotic in the shoe. Your feet should feel comfortable with the orthotic in.
Note: If you click some of the links in this article we may earn a small commission at no additional cost to you.
Best 4 Training Shoes for Women

The ASICS Gel-Craze TR 4 Cross Trainer Shoe comes in several color options. It has a rubber sole to help you remain steady on almost any surface. The 100 percent synthetic materials are breathable to keep your feet comfortable during a tough workout.
The low-top shaft allows you to move your feet in every natural direction without interference. The 1.5-inch heel provides a little lift for the back of your foot, making these shoes ideal for cross training activities.
The insoles are one-inch thick and use GEL cushioning technology. This part of the shoe is made from foam and gel, so they are lightweight, but also able to adequately absorb shock when your foot strikes the ground.
Pros
The insole is removable, so you can use any you prefer

This shoe runs true to size

This shoe is very lightweight

This shoe is very flexible for optimal mobility
Cons
This shoe may lack arch support for very high arches

This should could use more cushion
The Reebok CROSSFIT Nano 8.0 Flexweave Cross Trainer comes in a variety of colors. The rubber sole can grip most surfaces so that you can move freely without sliding around. Get adequate support without sacrificing flexibility due to the low-top shaft.
The cushioned sole helps to comfort your foot during running and jumping. The heel bootie construction ensures that you remain comfortable no matter the type of workout you are doing.
The shoes are lightweight, so they will not hold you back, or compromise your jump heights or overall speed. The forefoot features flex grooves to further the shoe's overall flexibility. Keep your feet dry and cool thanks to the breathable fabric that this shoe uses.
Pros
This shoe is supportive

Ideal for wide feet

The sole is very flexible

These offer solid grip on multiple surfaces
Cons
They run about a half size too small

Hard plastic arch may be uncomfortable for flat feet

The Adidas Athletics 24/7 Training Shoes come in three different colors. These shoes are 100 percent synthetic and textile. This makes them breathable to keep your feet comfortable and dry during intense workouts. The rubber sole ensures that you do not slide around during a workout.
The flexible mesh upper allows you to move your feet freely during a workout. The shaft from the arch measures low-top. This helps to enhance the flexibility of the shoe.
The lacing system allows for the perfect fit due to being adjustable. Control the support and overall tightness of the shoe with this feature. After sports or a tough workout, get the most out of your recovery with the molded sock liner that comes with the shoe.
Pros
They hug the feet comfortably

They have recovery insoles

Very lightweight shoes

They offer a high level of support
Cons
You may need to size down a half size

Toe box may be too wide for narrow feet
The Nike Metcon 4 Training Shoe is a lightweight cross-training shoe that easily transitions between activities. It features mesh for easy movement and breathability. The 3D-printed upper ensures a high level of durability. The laces and flywire cables work together to ensure a dynamic fit.
The drop-in midsole provides a flexible forefoot and a stable heel during all activities. The heel features firm rubber for additional stability when you are performing high-intensity intervals.
Get even more durability thanks to the rubber web that wraps the midfoot after stretching from the outsole. This also enhances the overall stability of this shoe.
Pros
You can wear them during all four seasons

The shoe is flexible to accommodate any workout

This shoe fits true to size

These shoes offer excellent stability
Cons
You may need additional arch support for high arches

May lose some grip on wet surfaces
Our Choice
Our choice is the ASICS Gel-Craze TR 4 Cross Trainer Shoe. This shoe easily transitions between multiple workout types. The materials are durable and breathable, for long-lasting comfort. This shoe is lightweight, so it will not interfere with your workouts.
The materials and design of the shoe allow for a solid balance between stability and flexibility. This allows you to move naturally without your joints extending beyond their natural range of motion.
The different areas of the shoe provide the right shape, materials and design to hug your feet. The foam and gel insoles provide shock absorption when your feet hit the ground.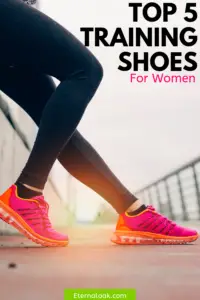 Sources
(1) http://blog.cleveland.com/health/2008/07/funky_feet_its_not_you_really.html
(2) http://www.aofas.org/footcaremd/how-to/footwear/Pages/10-points-of-Proper-Shoefit.aspx
(3) https://health.clevelandclinic.org/shoes-getting-tight-feet-change-size-time/
(4) https://www.health.harvard.edu/pain/8-tips-for-buying-shoes-that-are-good-to-your-feet